Mailbag – Interoffice Memo Edition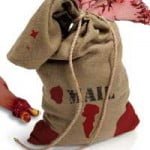 Dr. J. found this an inter-office mail envelope with Polish sausage grease, blood (human, type AB+) and encephalic fluid stains on his desk this morning, meaning that it could only come from The Czar:
Date: August 24th, 2011 A.D. (ed. None of that C.E. crap).
To: Dr. J., Royal Surgeon
From: The Czar of Muscovy, etc., etc.,
RE: The so-called iPhone 5
Dear Dr. J.:
Speaking of your [missing] iPhone
(a) I don't have it.
(b) As a Sprint customer, the Czar was blown away by your post. Why is Sprint covering that up? What superb news. The цари́ца is getting frustrated with her old phone, and at the same time she's looking at moving her mom to our plan (the цари́ца gets a big discount from Sprint).
The Czar thinks the iPhone would be perfect for each of them! And both would be ready for new phones around the end of October.
Had it not been for your post, the Czar wouldn't know jack about this!
Warmest Regards,
The Czar
To which Dr. J. dutifuly replied:
Date: August 25th, 2011 A.D.
To: The Czar of Muscovy, etc., etc.,
From: Dr. J., Royal Surgeon
RE: The so-called iPhone 5
Dear The Czar:
Thank you for your memo.
Dr. J. is keenly aware that the Czar does not have his iPhone. Given the internet IP address trail, Dr. J. strongly suspects that 'Puter or GorT has it as one of the sites visited after it's disappearance was, "The Naughty Ladies of Lego…"
Nevertheless, the reason Sprint is tight-lipped about the iPhone 5 is because Apple has not officially announced the iPhone 5. As seen here, Apple has an interest in selling as many iPhone 4s for as long as possible, so announcements are only weeks ahead of release dates. As Sprint will be the NKOTB, they probably have to have some sort of non-disclosure deal that they signed. While the iPhone 5 is probably Apple's worst kept secret, it hasn't been announced by Apple, let alone given an actual release date. Given that Sprint sent Dr. J. away without a sale was pretty telling. No whether or not Steve Jobs's departure will have an impact remains to be seen.
One can hope that it will be faster, thinner and with better battery life than previous iterations. Of course there will be unexpected treats as well, built in.
Dr. J.'s got to wait a few more days for his loaner, but he will have something to limp him through until the iPhone 5 becomes available.
Warmest Regards,
Dr. J., Royal Surgeon
At this point, Dr. J. would like to offer his best wishes to Steve Jobs as he steps down from his lofty post as CEO of Apple computer. CNN, in this article pieces his medical history together nicely. Dr. J. suspects that his cancer recurred, he's had organ rejection, or more unlikely he's developed a secondary malignancy from his immunosuppresives. He will remain on as Chairman of the Board, largely to buoy stock prices and have a 10,000 view of what's going on with his company.
(Portrait of Yours Truly courtesy of Death Star PR)
Dr. J. has been a lifelong fan of Apple Computer. His first computer was an Apple //e, and he's owned nothing but Macs ever since. They have always had the best combination of hardware and software (despite the lean years of the late 1990s). Dr. J. suspects that they will be a success for many years to come. They just need to continue to innovate and not be afraid to introduce a few flops along the way (e.g. the Portable Macintosh, the Newton, etc.) as those flops are prototypes for future successes (e.g. the Macbook and the iPlatform).
Post Script – Dr. J. just saw this editorial on NRO just minutes after completing this blog post. Go read it. Nick Schulz describes in great detail what Dr. J. just waxed on in his concluding sentence. Dr. J. wouldn't want NRO thinking he poached their thoughts.