Just as long as his name is not Hector…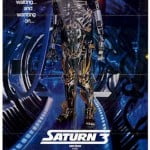 It's alive, ALIVE!
NASA has awakened
Robonaut 2
, the next generation in space robots on the International Space Station.
Yahoo discusses the robot
here
.
NASA is excited about the use of the robot in space in that it can take over simple, repetitive or dangerous tasks. There is no word as to whether or not the AI will take umbrage with the repetitive or dangerous tasks and will rebel against it's human masters. They also consume less food, spend less time in the John, and can go outside without a hat…alas he won't be replacing severed arms like Dr. J.'s minion
2-1B
.
NASA hopefully has taken the safeguards of programing Robonaut 2 (or R2 as it's affectionately known) with Asimov's laws of robotics (thank you I Robot, by Isacc Asimov!):
A robot may not injure a human being or, through inaction, allow a human being to come to harm.
A robot must obey any orders given to it by human beings, except where such orders would conflict with the First Law.
A robot must protect its own existence as long as such protection does not conflict with the First or Second Law.
and added later: