Birth Control, the follow up…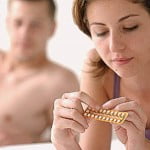 Dr. J. is up late watching Fox News. The issue regarding HHS mandating insurance companies providing free birth control to all women who want it still sticks in his craw. In all of the debates he's watched or listened to in the last day or two not one liberal could answer this question:
Why is it necessary to make birth control free for all women when most able bodied young ladies can and do afford to pay for their own contraceptive needs?
They would typically mutter something about the poor, or unwanted pregnancies, or that Viagra is covered (with a co-pay lady). or yell SQUIRREL and point at the corner or something.
The reason is that they have no answer other than deep down they think that all healthcare should be free. Dr. J. is waiting for one of them to have the C.O. Jones to just go there and show their cards. Dr. J. also believes that mandating contraception makes the Progressive grin because they get to trump issues of conscience (which they can't argue away or shout down) by fiat.
Just you wait, soon enough, when it comes to more important medications (statins, blood pressure medications, Plavix), they will argue that those should be free, too. When they demand that the whole Walmart $4 list should be gratis, the generic pharmaceutical industry will collapse and free will become a hell of a lot more expensive.