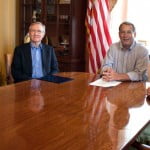 Dr. J. has always felt that President Obama is ultimately is a man of his convictions. It goes without saying that Dr. J. has also always felt that President Obama is almost always on the wrong side of every issue.
One would be hard-pressed to say that even a broken clock is wrong twice a day applies to the President.
Dr. J. suspects that the President's unrelenting desire to tax the rich uber alles (and perhaps to break the House Republicans) is the ultimate cause of the White House debt talks breaking down. Dr. J's little medstudent isn't nearly as singleminded about getting his way and he could carve the Grand Canyon with his willpower, even without a Green Lantern power ring.
The national debt situation always was going to come to a head at some point. If one continuously borrows money, eventually, the combination of expenses generated by that money and the required interest on that money, as Reverend Jeremiah Wright likes to say, comes home to roost.
In the case of Joe Six-Pack, buying too big a house and furnishing it on the credit card will make it too hard for him to pay the electric bill and feed himself.
In the case of Government, funding constituencies via entitlements and transfer payments has resulted in a similar situation.
Joe Six-pack has two choices, downsize or ask the boss for a raise. Bosses don't usually give raises to offset profligate lifestyles. If Joe Six-pack got the raise, he might pay down his debt, or he might spend more.
The Federal Government has the same choices, downsize, and/or ask the boss (the taxpayers) for a raise (tax increase). In this case the boss knows that his employee has blown the last several raises on a cocktail party with his neighbors, a big screen TV, a convertible and a Hello Kitty lawn gnome.
President Reagan submitted 8 balanced budgets, and all of them were rejected. The increased revenues from his tax cuts were spent by Tip and the boys. The Clinton surpluses were due to increased revenue via the tech bubble and a slowed rate of increased expenditures. In 2010, the boss basically said that he won't be giving the government a raise in the foreseeable future given that he had to tighten his own belt due to the recession.
From 2009-2011, a government previously walking towards a cliff, started sprinting with TARP (especially with the 2nd $350 billion), stimulus, the auto bailout, and cash for clunkers. The House Republicans appear to say STOP GOING TOWARDS THE CLIFF, TURN AROUND, WALK AWAY FROM THE CLIFF. Everyone else says, that's crazy talk, lets compromise, lets run slower, lets run at an angle, lets walk. None of those compromises solve the problem.
President Obama, who likes to lead from behind and from behind closed doors has been the most intransigent because he doesn't want to let a crisis go to waste and he wants to get his way. Dr. J. suspects that it drove him crazy that he had to extend the current tax rates.
Today, Speaker Boehner, Senate Majority Leader Reid, Senate Minority Leader McConnell and House Minority Leader (that feels good to say) Pelosi got together for a photo-op.
They didn't invite President Obama to the meeting, a sign of who is really being obstreperous.
Jennifer Rubin (JRu) is optimistic (read here) in her
blog post
today.Hopefully they can sort through this in a way that ultimately lands a debt ceiling increase with concrete cuts and a concrete plan to turn the ship around without asking the boss (us) for a raise.
Anything less would be foolhardy given the mandate from the voters in 2010.