Things Are Better, As Horrible As It Seems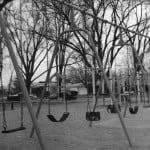 Professor Mondo has a typically well-written post today regarding the cultural transition parents underwent in the last few decades of letting kids be kids and (over-)protecting them from strangers. The essay is tightly written, and the Czar's summary hardly does it justice, as he links together four topics in quick order; summarizing only one does the other three an injustice.
The Czar has often engaged others in debate on the safety of children; invariably, the discussion turns on whether the situation is better or worse. Lots of people believe things are worse, and their evidence is curious. The news is filled with stories of missing or abducted children, Amber alerts flood mobile devices and Twitter, and milk cartons and flyers document kids who vanished.
The Czar maintains that this evidence shows things are getting better: bad guys are not getting away with it. In fact, it takes very little effort to research the newspapers of old and find stories of missing and dead children; except, they would be a brief item in the local paper and no follow up ever seemed to occur. Sometimes, as the Professor notes, a case will be spectacular; everyone knows at least one: he recalls one that occured when he was nine that chilled his community and caused parents to start locking doors and keeping an eye on kids. In Chicago, this occurred in the mid-1950s with the Schussler-Peterson murders. Indeed, the more you study that case, the more you appreciate how modern the crime seems: remove the date, and the details sound like they came from today's lurid newspapers.
What is different is the social realization that this keeps happening with predictably tragic consequences. This, as you recall, really happened with the Adam Walsh case in the 1980s: a story, so typical in its beginning, middle, and end that it would have disappeared into the annals of horrible crimes (simply because there was nothing unique about it) had it not been for his father's outrage upon learning how common all the elements were. He started to call attention to it.
Prior to this, people would ignore or suppress stories like this, often in their rush to forget them. As you talk to doubters, you quickly learned that all of them recall some story from their childhood about a kid who vanished or disappeared. These things happened then—we also know at the same rate as today—but we choose to forget.
In short, things are not getting worse; they are being reported at accurate frequencies. But instead of forgetting about them, we continue to advertise faces and names. What's more, we learned that the patterns are so common that they become predictable. We know the personality types, the modus operandi, and the compulsions of abductors and murderers. And, as the Professor notes, the Stranger Danger myth is not as terrifying as the uncle, the delivery guy, or the nice man down the block who are responsible for the majority of tragedies.
The question is not whether we over-protect our kids today, locking them in yards, maintaining adult supervision, using passwords when relatives pick them up from school, and putting invisible leashes on themthis is what we should have been doing centuries ago. The question is why it took us so long to admit the truth that there are, indeed, monsters out there.

Божію Поспѣшествующею Милостію Мы, Дима Грозный Императоръ и Самодержецъ Всероссiйскiй, цѣсарь Московскiй. The Czar was born in the steppes of Russia in 1267, and was cheated out of total control of all Russia upon the death of Boris Mikhailovich, who replaced Alexander Yaroslav Nevsky in 1263. However, in 1283, our Czar was passed over due to a clerical error and the rule of all Russia went to his second cousin Daniil (Даниил Александрович), whom Czar still resents. As a half-hearted apology, the Czar was awarded control over Muscovy, inconveniently located 5,000 miles away just outside Chicago. He now spends his time seething about this and writing about other stuff that bothers him.