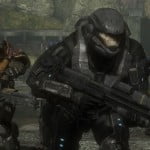 Somewhere in the UK, a short-haired, tee-shirt wearing prat with store-bought 5.11 pants fires up Halo: Reach on his Xbox and logs into Xbox Live. His call sign is UniformKiloActual, and he returns the salute to his game avatar. He puts the game in Slayer mode, his thirty-year-old finger hovering over the trigger on his steel gray Halo-themed wireless controller. Tonight he is in stealth mode, in which he shuns the headset to talk to his mates; he is off the grid tonight, on a special search-and-destroy mission.
Seven other players are found around the world, and a map is selected. One of his favorites, but aren't they all? He has played all of them, and knows every inch, every shadow, every angle. The game begins, and he immediately guns down SealKiller6 with a headshot. Irony! He jumps across a chasm, and there sees CommieH8R duck into a corridor. A great sniping roost, but also a dead end. He lobs in a grenade. Pow! "Tango down," he says.
Suddenly he rounds a corner, and finds himself starting for a second at another opponent. Before he catches his name, he is gunned down in a hail of bullets. Who the—? What the—? Who could bring down the invincible UniformKiloActual? Who is that good?
Thousands of miles away in Muscovy, the 8-year-old Цесаревич says "Got him, dad."
"Nice work, buddy! Think he wonders who did it?"

Божію Поспѣшествующею Милостію Мы, Дима Грозный Императоръ и Самодержецъ Всероссiйскiй, цѣсарь Московскiй. The Czar was born in the steppes of Russia in 1267, and was cheated out of total control of all Russia upon the death of Boris Mikhailovich, who replaced Alexander Yaroslav Nevsky in 1263. However, in 1283, our Czar was passed over due to a clerical error and the rule of all Russia went to his second cousin Daniil (Даниил Александрович), whom Czar still resents. As a half-hearted apology, the Czar was awarded control over Muscovy, inconveniently located 5,000 miles away just outside Chicago. He now spends his time seething about this and writing about other stuff that bothers him.