Remember Gorby? Do You Really?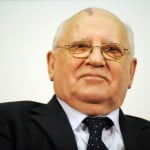 Anne Applebaum has an article in this month's Foreign Policy that looks at the weird world into which Mikhail Gorbachëv has descended. The Czar thinks that she just about has this 100% correct: that he has wound up as some sort of uncomfortable B-list celebrity. Within there, she mentions that current Russians are a little down on the guy:
An opinion poll released in March, at the time of his birthday, showed that some 20 percent of Russians feel actively hostile toward Gorbachëv, 47 percent of Russians "don't care about him at all," and only 5 percent admire him. And this was an improvement: Another poll, in 2005, found active hostility toward him in 45 percent of Russians.
The Czar believes this poll also describes the guy's history, not just just Russian attitudes toward him.
What follows is not a review of Ms. Applebaum's analysis—that indeed you should read on your own. Instead, what follows is the Czar's own analysis of Gorbachëv. Right or wrong, your assessment is just as valid, for what follows is pure opinion on our part.
The Left has especially come to laud Gorbachëv. Some even attribute the end of the Cold War to him, or at the very least give him equal credit. In reality, this kudos is meant to de-emphasize Ronald Reagan's impact, and attempt to distract historical opinion in a different direction.
But while there is no escaping Gorbachëv's role in ending the Cold War, the Czar thinks it a complete whitewashing to give Gorbachëv any constructive credit. We shall be blunt: he did not intend to end the Cold War. He did not seek to reduce tensions. He did not even want it to end. Going further, he wanted to strengthen the USSR, make it a more effective nation, and basically defeat the US at its own game. We are kind to him as the champion upset by the underdog, but removing the sports connotation, the reality is that Gorbachëv expected to destroy us.
Gorbachëv, to his credit, knew that the Soviet system was a total lie. For decades, factories were promoting (literally) incredible production output; farms were producing copious harvests year after year; there was nothing at which the Soviets did not excel. On paper: Gorbachëv realized that things were probably nowhere close in reality, and reality was catching up to the bullshit. Curiously, the US finds itself in a similar position: decades of leftist promises and assurances about the benefits of government control are rapidly bearing bitter fruit. He certainly did not change things in order to be more like America, but to remove anything that would stand in the way of Soviet dominance over us.
Гласность and перестройка are popularly translated "openness" and "reform," but in Gorbachëv's mind they meant "no more crap" and "get it together." By sheer force of terror, they forced the bureaucrats and apparatchiks to stop lying about their forecasts. To his horror, he found the Soviets were not nearly as successful as they claimed in the 1980s. Indeed, things were beyond reform: the country was already lost.
To the hard-line Soviets, Gorbachëv was a virtual hippie. He saw the violence of Stalin, and hated it. When the Warsaw Pact countries openly defied the Soviets, he had a choice between the tanks and doing nothing. He chose the latter, which cause no shortage of forehead slapping in the Kremlin. But Gorbachëv was not courageous or transcendent: he merely knew they could not afford to stop the collapse of the Iron Curtain. Send in the military and what, you buy yourself another 6 months? The world had no idea how bad things were in the USSR. They could not even afford to defend themselves.
When it all collapsed, Gorbachëv had another choice: he could institute a planned transition to a free-market economy, or he could simply let things fall apart into corruption and chaos. You already know he threw up his hands and allowed the latter. You may have forgotten that he was deemed so ineffective that a coup took place in 1991. Yes, it proved unsuccessful for the Communists who attempted to restore Soviet-style rule, but it was more unsuccessful for Gorbachëv, who saw the indolent Boris Yeltsin able to stand up long enough to take credit for it.
And like that Gorbachëv was out, and now finds himself a strange relic of a distant time. Certainly, the lefties here in the West elevate him to hero status: after all, he was the guy who finally brought the truth to the Communist ideal, rather than that Reagan guy who kept falling asleep during meetings and threatening to launch missiles. Right?
Wrong. Because Gorbachëv did not start either гласность or перестройка; they merely happened on his watch. Despite Wikipedia's fantastic and faulty recollection, these policies were put forth by a number of influential individuals seeking to prevent an economic bubble. Had Gorbachëv not jumped on the bandwagon, he would have been thrown under it. Remember: his intent was not to save the Soviet system—it was to destroy the capitalist system. And despite the shiny coat of paint we award these terms today, they were terrible policies in the USSR, leading to widespread shortages, chaos, layoffs, uncertainty and more. Military budgets were cut, which more than anything else caused the Soviet loss in Afghanistan. But their loss was our gain.
So the Czar agrees with the Russian attitudes: 5% of Gorbachëv was a good thing; 20% of him was bad for the world, and 47% of him, at least, made no difference whatsoever to world history. History will long remember his name, but future historians will have an increasingly hard time explaining his value.

Божію Поспѣшествующею Милостію Мы, Дима Грозный Императоръ и Самодержецъ Всероссiйскiй, цѣсарь Московскiй. The Czar was born in the steppes of Russia in 1267, and was cheated out of total control of all Russia upon the death of Boris Mikhailovich, who replaced Alexander Yaroslav Nevsky in 1263. However, in 1283, our Czar was passed over due to a clerical error and the rule of all Russia went to his second cousin Daniil (Даниил Александрович), whom Czar still resents. As a half-hearted apology, the Czar was awarded control over Muscovy, inconveniently located 5,000 miles away just outside Chicago. He now spends his time seething about this and writing about other stuff that bothers him.