Ranges in Chicago? Maybe. But Probably Not.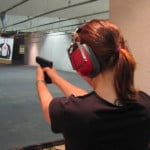 Well, we go from not having nearly enough firearm-related posts to having way too many at once. And the Czar will admit he is to blame for the latter. Maybe the former, too.
But Confucius* alerted the Czar via Twitter that most curiously newly inaugurated Chicago Mayor Rahm I. Emanuel is introducing an ordinance that will allow gun ranges to open in Chicago.
And perhaps a lot of Chicago-area gun friendlies are high fiving that decision. After decades of having to commute to the suburbs just to throw a little jacketed steel downrange, Chicago residents can bicycle over to their neighborhood shootery.
The Czar is skeptical about this. Not that Mayor Emanuel's intentions aren't pure—in fact, given that a new Chicago firearm permit is $33.33 a year and each gun must be registered at $15 a pop, the Mayor probably wants lots of guns to be registered by lots of people.
No, the problem is that few, if any, ranges will ever actually open within city limits. After all, it has been relatively easy to open a shooting range outside of Cook County, but few have over the years; indeed, a large number have closed. Why?
The hassle of dealing with the bureaucracy, the enormous liability insurance, and the influx of idiot shooters who want to rent a gat to turn sideways and rapido fumar into pictures of bin-Lâdin.
If you live outside Illinois and frequent gun ranges, you probably assume that a shooting range is a friendly place to bring your firearm, rent one or two to learn on, and spend some time with the wife and kids introducing them to the shooting sports. And for you, that is likely the case. In Illinois?
Many shooting ranges require all shooters to have a FOID card before being allowed on the range. This is horsecrap for out-of-state shooters wanting a place to practice when in town. It is also terrible practice for bringing new shooters into the growing ranks. Of course, the Czar thinks that FOID cards are a great idea even if you have no intention of shooting: it is a valid photo ID, costs relatively little, and since they are making FOID owners's names public, basically advertises to would-be criminals that you and your family and your home probably shouldn't ever be touched. But the Czar also believes that wives, girlfriends, and sisters (which in Dr. J's neighborhood could all be one person) should be taught to shoot and shoot well—and a lot of women, for whatever reason, just do not like obtain the ID. And that means a lot of people will not be allowed in.
Many shooting ranges require that customers be over 21 years of age. And that means that kids—who absolutely should learn how to handle a weapon safely and properly get shut out for no good reason. This is a terrible idea, since it alienates future customers badly from wanting to learn.
Some shooting ranges prohibit a single individual from using the range. Allegedly, this is to prevent suicides from happening at the range; the thought is that if you can get a friend to come with you, you will not commit suicide on the property. What the hell brain came up with that nonsense? Do range suicides happen a lot? Actually, they do happen, but if the range policy was based on any plausible convention, a two-person minimum would be required in a lot more places where suicides happen more frequently. You don't see this, however, because it is a total farce.
All of this restrictive behavior is the result of oppressive liability requirements, caused in turn by restrictive clauses in liability insurance, caused in turn by outrageous litigation, caused in turn by trial lawyers, supported tooth-and-claw by anti-gun Democrats. So while we salute Mayor Emanuel for ending another bizarre Daley adminstration practice, the results will be less than stellar.
And you know already whom you can thank. The usual crowd.
*For those who came in late, Confucius is the Gormogons' Œcumenical Volgi.

Божію Поспѣшествующею Милостію Мы, Дима Грозный Императоръ и Самодержецъ Всероссiйскiй, цѣсарь Московскiй. The Czar was born in the steppes of Russia in 1267, and was cheated out of total control of all Russia upon the death of Boris Mikhailovich, who replaced Alexander Yaroslav Nevsky in 1263. However, in 1283, our Czar was passed over due to a clerical error and the rule of all Russia went to his second cousin Daniil (Даниил Александрович), whom Czar still resents. As a half-hearted apology, the Czar was awarded control over Muscovy, inconveniently located 5,000 miles away just outside Chicago. He now spends his time seething about this and writing about other stuff that bothers him.