Paging Mr. Higgs Boson…Your Party Is Here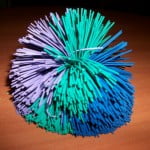 All right, enough. The media is already all over the road like a drunk driver with this Higgs Boson particle. Proof of parallel universes? Time travel? The God Particle? Give us a break. Actually, here is a hint. If the press story mentions anything about a God Particle, stop reading it.
Because there are two stories out there now: they may have found it, or (more accurately) they know many places it cannot hide, meaning there is a strong probability of confirmation in one of the remaining places.
Presently, two major laboratories (Fermilab, outside Chicago, and the Large Hadron Collider in Switzerland) are locked in a tight race to be the first to find the Higgs Boson particle.
But what the foxtrot is it?
Quantum mechanics reduced the various forces in the universe down to four common types: gravity, the strong nuclear force (which holds atom nuclei together), the weak nuclear force (which causes radioactive isotopes to decay), and the electromagnetic force. The last one is interesting, because they were two separate forces until 1873 when Maxwell proved them to be one and the same.
This worked pretty well, but suspicious physicists realized in 1983 that the weak nuclear force could also be part of the electromagnetic force if temperatures are hot enough. Specifically, the three forces could be seen as an interplay between three subatomic particles: the photon, the W particle, and the Z particle. Everything can be explained by some arrangement of these three particles…except for one weird thing.
The W and Z particles are very massive, where as the more simple photon is effectively massless (most calculations treat its mass as zero, but in fact photons do have nearly negligible mass: lasers, for example, can be used to push spacecraft through a vacuum due to the combined mass of photons hitting the ship). So if everything at a high enough temperature treats the massive W and massive Z particles and the nearly massless photons as the same, where does the mass come from? Sort of like taking three identical pieces of hot dough, and when they cool, two of them form huge loaves of bread while the third stays small. Where did the extra dough come from?
Only one explanation kept coming through from the math: there has to be another subatomic particle out there, the Higgs boson, that interacts at a critical temperature point to contribute mass to the W and Z particles. If so, where the hell is it? No one has ever seen a Higgs boson.
However, there were some possible temperatures at which it could probably operate. And little by little, Fermilab and the LHC have been eliminating possible temperatures. One of two possible outcomes remain: they will either see it at a certain temperature, confirming its existence, or they will not see it at all. And if the latter happens, we evidently know jack about physics: a lot will need to be rewritten.
On the other hand, if they see the Higgs boson, they know that W and Z particles can work with photons as expected, and a monstrous chunk of quantum mechanics becomes "simpler" to work with.
For one thing, with electroweak confirmed, it gives physics a solid footing to extend promising work on quantum chromodynamics. This interesting area of physics looks to merge the strong force into the electroweak force (QCD-electroweak interaction).
So the Higgs Boson is a big deal. But as always, the real story is much more interesting than the sci fi flying out the anuses of the popular media.

Божію Поспѣшествующею Милостію Мы, Дима Грозный Императоръ и Самодержецъ Всероссiйскiй, цѣсарь Московскiй. The Czar was born in the steppes of Russia in 1267, and was cheated out of total control of all Russia upon the death of Boris Mikhailovich, who replaced Alexander Yaroslav Nevsky in 1263. However, in 1283, our Czar was passed over due to a clerical error and the rule of all Russia went to his second cousin Daniil (Даниил Александрович), whom Czar still resents. As a half-hearted apology, the Czar was awarded control over Muscovy, inconveniently located 5,000 miles away just outside Chicago. He now spends his time seething about this and writing about other stuff that bothers him.