On Death and Dying, Facebook Edition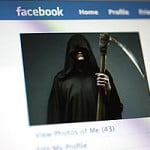 Gentle Readers, Dr. J. was saddened by sudden and unexpected the passing of a childhood chum's father this week (who lives in a blue state North and East of New Atlantis). While an autopsy was not performed, it was pretty apparent that he most likely died from a fatal arrhythmia associated with a heart attack. Mrs. Dr. J. suggested a ruptured aneurysm could have been the cause. Nevertheless, it was swift and painless, which is how we all want to go, but we'd rather do it when we're 80, and not in our early 60's and still running marathons and checking off our to-do lists.
There were a few aspects of his passing related to social media that made Dr. J. reflect that go above and beyond the loss of this great gentleman.
First, is how Dr. J. found out about his death. Dr. J. was taking a quick Facebook break from working online and he was messaged by a colleague from work here in New Atlantis. The colleague asked Dr. J. if he knew this gentleman from the Northeast, as he saw that we shared this gentleman as a common friend. Dr. J. said, of course, but HOW DO YOU KNOW HIM?!?! The colleague informed me that he was a friend of the gentleman's girlfriend and she called him to tell him a few hours after the gentleman passed.
Dr. J. was struck by what a small world we live in that a colleague, whose sister happened to be a college classmate of Dr. J.'s is also connected to Dr. J. because his friend and Dr. J's friend's dad are a couple. Dr. J. would have expected to hear about his friend's father's death from the son, or a classmate, or via his friend posting something by social media, but NEVER by a random colleague from work.
Dr. J. was also struck with the tragedy of unanticipated sudden death. This gentleman who died's last post was a photo of a gourmet meal the day before and some fun commentary about it. Dr. J. saw and made note of it before finding out the news of his passing. Similarly, a year ago, Dr. J. had a college classmate pass away in a mountain climbing accident. Dr. J. noticed a couple of FB posts regarding his moving to a big square state out west, looking for someone to sit his dog and then a post about going after this specific mountain. In his case, the next thing Dr. J knew he noticed memorial posts being made a couple of days later on his feed.
Dr. J. is not alone in seeing and reflecting on this phenomenon, that is how life, and death are part of the social media fabric. Time magazine discussed it
here
. Forbes reflects on it
here
.
Dr. J found the juxtaposition of these individuals last post showing them very much alive, and living life to its fullest then suddenly followed by the legion of memorials as a stark reminder of how short, delicate and beautiful life is.