NYT's Editors' Appeal To Faith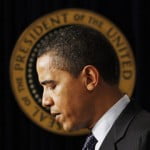 In today's gripping installment of "How Do These Guys Even Have Jobs Anymore?", the New York Times editorial board appeals to its readers' faith.
To be certain, not faith in God, because that's for uneducated, gun-owning hicks. Rather, the NYT depends upon its readers' faith in the infallibility of Barack Obama and Democrats on all matters great and small.
You see, Republicans are the only ones to blame for the current debt ceiling standoff. It could not be Our President or Democrats, as they are all good and deserving of all our love. At least, in keeping with the Church of the One, True Elite-Approved Faith.
An irrational faith in an easily disprovable thesis (the supposed correctness and superiority of Leftist doctrine) is the only explanation for the howlers contained within the editorial.
Let's begin, shall we?
They [House Republicans] have warped an exercise in paying off current debt into an argument about future spending. Yet, when they win another concession, they walk away.
Nope. First, paying off the debt and future spending are inextricably linked. If we pay off or down the debt, there is less money available for future spending. Unless, of course we borrow more, which leads us right back to surging debt and the need to cut spending. Second, it is disingenuous (or an outright lie) to say we are talking about paying off anything. We are talking about paying interest on current debt, bonding off deficit spending and rolling over (not paying off) extant debt. To claim otherwise shows a profound lack of understanding.
This increasingly reckless game has pushed the nation to the brink of ruinous default. The Republicans have dimmed the futures of millions of jobless Americans, whose hopes for work grow more out of reach as government job programs are cut and interest rates begin to rise. They have made the federal government a laughingstock around the globe.
False. A fanatical, quasi-religious belief in Keynesian stimulus has led us to the brink of ruinous default. We have borrowed over $14.3 TRILLION, much of it after Mr. Obama's election, to finance current wishes with future dollars. In order to pay for the government's seeming limitless tax dollar jones, the 49% of Americans who actually pay taxes know that they are going to get shafted. Who in their right mind is going to hire anyone when taxes, health care and the economy are so uncertain? Fix the debt issue by meaningfully reducing spending, and jobs will almost certainly follow.
"How can we ask a student to pay more for college before we ask hedge fund managers to stop paying taxes at a lower rate than their secretaries?" he said, invoking Ronald Reagan's effort to make everyone pay a fair share and pointing out that his immediate predecessors had to ask for debt-ceiling increases under rules invented by Congress. He urged viewers to demand compromise. "The entire world is watching," he said.
This is class warfare rhetoric at its most offensive. We can ask students to pay more for college because they are on welfare. Taking government money to pay tuition is no less on the dole than getting food stamps. Middle class welfare is simply more societally acceptable. We don't get welfare; that's for the dirty poor. We're middle class. Who don't pay taxes, but that's another column.
We can ask Social Security recipients and Medicare/Medicaid recipients to shoulder their fair share of the burden because they are wards of the state. Has no one heard the old adage "beggars can't be choosers," or has the notion become passe? If 'Puter hears one more senior or near-senior bitch and moan about having paid into Social Security and Medicare, and dammit, they're going to get every penny out of it they put in, 'Puter is going to punch him. Fine. 'Puter is all in favor of cutting you a check in the full amount of your Social Security and Medicare contributions over the course of your career, and you get benefits from neither program. It's far cheaper in the long run. Otherwise, sit down and shut the heck up, oldster, because unlike 'Puter's generation, you're going to get something.
And, not for nothing, if 'Puter were White House chief of staff, he'd sucker punch the speech writer (probably this 12 year old knucklehead from Holy Cross ('Puter's alma mater)) who decided to use a variant of "the whole world is watching" in a nationally televised speech. Folks slightly older than 'Puter remember the 1968 Democratic National Convention in Chicago where the dirty, lazy, spoiled Boomer hippies showed up, misbehaved and got (correctly, in 'Puter's opinion) beaten down for inciting a riot by the Chicago Police Department. While the CPD was going about its job, the hippies with the knack of Sen. Chuck Schumer, found the press cameras and started chanting "the whole world is watching." Many recall that slogan as emblematic of a time where the New Left and its minions in the press ('Puter's looking at you, NYT) set about destroying the values and institutions that made America great. Now, the fruit of their dark labors sits in the White House, complaining about the lack of values and institutions his fellow travelers knowingly destroyed. Reap the whirlwind.
The editorial goes on through several more paragraphs blaming Republicans for all that is wrong with America. Republicans won't take yes for an answer. Republicans are irrational. Republicans are gambling with American prosperity. Only the One, True President can save us now. How can you not accept his manifest wisdom?
The NYT's fatal error in this editorial is mistaking a symptom for a cause. The debt ceiling is not a cause of our trouble, it is a symptom. We should certainly be able to roll over and pay for $14.3 trillion in existing debt, provided we weren't talking about borrowing nearly a third (or more) of our outlays going forward over the next decade. The cause is overspending. Speaker Boehner got this exactly right last night. We can't continue to spend more than we take in year in and year out.
Again, the only rational explanation for the NYT's editors' continued failure to face facts is an irrational belief in a false Messiah, whether the False Messiah be Keynesian economics, President Obama or the Welfare State.
There are none so blind as those that will not see.

Always right, unless he isn't, the infallible Ghettoputer F. X. Gormogons claims to be an in-law of the Volgi, although no one really believes this.
'Puter carefully follows economic and financial trends, legal affairs, and serves as the Gormogons' financial and legal advisor. He successfully defended us against a lawsuit from a liquor distributor worth hundreds of thousands of dollars in unpaid deliveries of bootleg shandies.
The Geep has an IQ so high it is untestable and attempts to measure it have resulted in dangerously unstable results as well as injuries to researchers. Coincidentally, he publishes intelligence tests as a side gig.
His sarcasm is so highly developed it borders on the psychic, and he is often able to insult a person even before meeting them. 'Puter enjoys hunting small game with 000 slugs and punt guns, correcting homilies in real time at Mass, and undermining unions. 'Puter likes to wear a hockey mask and carry an axe into public campgrounds, where he bursts into people's tents and screams. As you might expect, he has been shot several times but remains completely undeterred.
He assures us that his obsessive fawning over news stories involving women teachers sleeping with young students is not Freudian in any way, although he admits something similar once happened to him. Uniquely, 'Puter is unable to speak, read, or write Russian, but he is able to sing it fluently.
Geep joined the order in the mid-1980s. He arrived at the Castle door with dozens of steamer trunks and an inarticulate hissing creature of astonishingly low intelligence he calls "Sleestak." Ghettoputer appears to make his wishes known to Sleestak, although no one is sure whether this is the result of complex sign language, expert body posture reading, or simply beating Sleestak with a rubber mallet.
'Puter suggests the Czar suck it.