Negligence and Accidence. Er…Accidents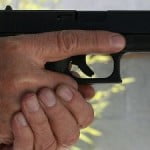 Our good neighbor (well, he is the kind of neighbor who strolls out to get the morning paper wearing only his underwear) Uncle Jay writes in with this very interesting update:
Oh dread & awful Czar—

Some shooting ranges prohibit a single individual from using the range. Allegedly, this is to prevent suicides from happening at the range; the thought is that if you can get a friend to come with you, you will not commit suicide on the property. What the hell brain came up with that nonsense? Do range suicides happen a lot? Actually, they do happen, but if the range policy was based on any plausible convention, a two-person minimum would be required in a lot more places where suicides happen more frequently. You don't see this, however, because it is a total farce.

All of this restrictive behavior is the result of oppressive liability requirements, caused in turn by restrictive clauses in liability insurance, caused in turn by outrageous litigation, caused in turn by trial lawyers, supported tooth-and-claw by anti-gun Democrats.

Just a little alternative to some of the reasoning you've given:

I'm a member at a small pistol-caliber only outdoor range. We have a "no solo shooting" policy, but I'm given to understand that it is in place for safety purposes.

Accidents happen, even to the most responsible gun owners.

We have at least two people on-site for ANY shooting activities for the same reason that we are required to have the first aid/trauma kit at the firing line, not just in the target shed, when anyone is shooting. In addition, we hold periodic training/familiarization courses for the equipment in the trauma kit during our monthly meetings.

If you're out there alone and have that catastrophic negligent discharge while practicing your draw-from-concealed, your chances of survival are remarkably improved if you know how to self-administer QuikClot to the wound, tourniquet, etc… they are even higher if you have someone else on hand to help administer first-aid, call 911, or drive you out to the ER.

Range-side suicide has never been discussed as a potential issue at our range, even after it happened down in Orlando last year.

After all, if you have the means (own a firearm) why do it at a shooting range?

The reasons the suicides happened at the range in Orlando is that they rented guns to the victims.

Those guys were going to commit suicide in some manner; they just chose a fairly efficient method. Fortunately they didn't decide to go out in a high-speed chase or do something stupid at one of the local theme parks.

Just my 2 cents worth.

I remain your humble servant-

TBG
No argument here. But the Czar would like to point out why (a) the Big Guy knows what he's talking about and (b) the Czar would love to push some lead downrange with him sometime. The phrase negligent discharge.
Non-gun nuts may not recognize the code word negligent. Conservatives use it; liberals tend to use the word accidental. You can identify a pro- or anti-Second Amendment person based on whether they say negligent discharge or accidental discharge. Here is why:
A negligent discharge assumes the person holding the weapon had no clue what he was doing, and his idiocy resulted in him pulling the trigger. He is negligent, and therefore responsible, for whatever happens next.
An accidental discharge—yes, just a subtle change in wording—indicates the weapon spontaneously went off without anyone being responsible. Yeah, it just fired a round all by itself.
Why the difference? Because in the anti-gun world, guns accidentally fire off and shoot people all the time. Kids picking one up, dad cleaning one, and sloppy cops trying to explain to their supervisor why there is a 9mm spider web-shaped hole in the windshield of the cruiser. See, guns are dangerous, Deadly. Even if you do not intend to fire them: they can just "accidentally" shoot off and hurt or kill people. Gun manufacturers know this, but do nothing to prevent it because, really, they are busy flying in their corporate jets in order to hang out with oil company fat cats who pay no taxes.
"Negligent discharge" not only assumes the person holding the weapon is responsible, it also acknowledges that a weapon made after during the 20th Century or later is impossible to fire unless you intentionally do it. Even the venerable M1911A1, the iconic .45 pistol developed before World War I, and has only 81 parts features a thumb safety, a grip safety, and an inability to fire unless the trigger is pulled. You can drop it, kick it, throw it, spin it around on your finger, and it isn't going to fire. Modern weapons—those made fifty years ago or later, have multiple safeties, both visible and internal to the weapon. In order to fire a modern weapon, you need to have a firm, positive grip on the weapon, a finger on the trigger, and many literally cannot fire while being cleaned because the takedown lever disarms the weapon.
A loaded firearm casually handled is safer than a vehicle parked in a garage. As a result, to people in the know (including the cop's supervisor), all weapon discharges are either intentional or negligent. There are practically no accidental discharges.
Sure, you can have an "AD." All you need is a loaded Colt .45 Peacemaker with a hair trigger, tipped upward, and then dropped onto the ground. That could fire a bullet. Of course, this stopped being a risk in 1873 when the design was finalized and the safety notch introduced.
Even so, hand an unloaded, safe weapon to a shooter, and notice how he or she reacts: with kid gloves, checking to see if the weapon is loaded and unsafe. Even though weapons really just do not fire off accidentally, gun-savvy folks always act as though this could be first time. Fingers away from triggers, muzzles pointed away from anything important, until the weapon is inspected for safety.
So when you hear the phrase "accidental discharge" of a weapon, you know with whom you're dealing. And when Uncle Jay, the Big Guy, says "negligent discharge," you know you want to go shooting with him. And the Czar does.

Божію Поспѣшествующею Милостію Мы, Дима Грозный Императоръ и Самодержецъ Всероссiйскiй, цѣсарь Московскiй. The Czar was born in the steppes of Russia in 1267, and was cheated out of total control of all Russia upon the death of Boris Mikhailovich, who replaced Alexander Yaroslav Nevsky in 1263. However, in 1283, our Czar was passed over due to a clerical error and the rule of all Russia went to his second cousin Daniil (Даниил Александрович), whom Czar still resents. As a half-hearted apology, the Czar was awarded control over Muscovy, inconveniently located 5,000 miles away just outside Chicago. He now spends his time seething about this and writing about other stuff that bothers him.