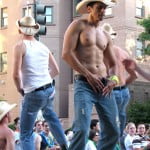 Regarding 'Puter's post on ObamaCare and Eugenics, Operative JAB writes in from the double-wide from an undisclosed location.
I would argue that this coercive nature of Obamacare is nothing new at all. It is perfectly consistent with the government's actions in health care for the past 20-30 years. The government mandated long ago that hospitals and emergency rooms treat all comers, regardless of their ability to pay. Well, as we know there is no such thing as a free lunch, so somebody somewhere pays for those who don't. The guvmint has now mandated the use of electronic medical records. Do they care what it costs to implement? Why, no indeedy.

The government has long forbidden doctors to charge Medicare patients any fee in excess of the Medicare rate, regardless of whether the doctor covers his/her costs or not. Now they're going to deploy "secret shoppers" to ensure that docs aren't refusing to see patients who have only government insurance. As Dr. J-of-the-Striped-Drawers pointed out, this all combines to run the solo practitioner out of business. And, yes, folks, a medical practice is a business, complete with phones, electric bills, bank loans to repay, rent and even insurance overhead.

The excellent internal medicine doc in my hometown (full disclosure: he takes care of my parents and I've known him since I was 6) is already north of 75 years, and when he finally does retire (or drop in his traces from exhuaustion), his patients will have to drive a minimum of 80-90 miles to the nearest big city to find a decent replacement. The new docs who settle in the boondocks tend to have had, er, problems elsewhere.

That wasn't always the case. My dearly departed great-uncle was the kind of doc Norman Rockwell painted. He was a member of The Greatest Generation, and we all thought he walked on water. Judging by the turnout at his funeral, so did most of the county. He delivered babies, stitched wounds, set bones, etc. He also decided what to charge and to whom. There is really no telling how many times his house was reroofed, not because it leaked, but because somebody couldn't pay cash for services but they could perform a service in return. Every summer baskets of vegetables mysteriously appeared from the gardens of patients. Every winter, freshly shot ducks. Today this would be regarded as Medicaid fraud.

So my advice to all y'all is to settle somewhere near a place like Ivory Tower University, where worketh Dr. J-of-the-Striped-Drawers in his 1000-member multi-specialty group. And NEVER, EVER have yourself a medical emergency out in the boondocks. Really.
Really, what more can be added to this? Why, JAB's thoughts on bourbon and Manhattans of course!
On a personal note, I generally agree with your reluctance to do weird things to good bourbon, but I put a proper Manhattan in a different, a higher, category than other adult beverages. I do wish to add my fervent "Amen" to your detestation of maraschino cherries, however you might want to consider sour cherries conserved in brandy. I have some from Hungary, brand name "Bende." You can find them in stores that stock foods from eastern Europe. They're right tasty in a proper Manhattan.
JAB is always welcome at the Castle, especially on 4 for 1 Manhattan happy hour on the Hapsburg Patio.

Always right, unless he isn't, the infallible Ghettoputer F. X. Gormogons claims to be an in-law of the Volgi, although no one really believes this.
'Puter carefully follows economic and financial trends, legal affairs, and serves as the Gormogons' financial and legal advisor. He successfully defended us against a lawsuit from a liquor distributor worth hundreds of thousands of dollars in unpaid deliveries of bootleg shandies.
The Geep has an IQ so high it is untestable and attempts to measure it have resulted in dangerously unstable results as well as injuries to researchers. Coincidentally, he publishes intelligence tests as a side gig.
His sarcasm is so highly developed it borders on the psychic, and he is often able to insult a person even before meeting them. 'Puter enjoys hunting small game with 000 slugs and punt guns, correcting homilies in real time at Mass, and undermining unions. 'Puter likes to wear a hockey mask and carry an axe into public campgrounds, where he bursts into people's tents and screams. As you might expect, he has been shot several times but remains completely undeterred.
He assures us that his obsessive fawning over news stories involving women teachers sleeping with young students is not Freudian in any way, although he admits something similar once happened to him. Uniquely, 'Puter is unable to speak, read, or write Russian, but he is able to sing it fluently.
Geep joined the order in the mid-1980s. He arrived at the Castle door with dozens of steamer trunks and an inarticulate hissing creature of astonishingly low intelligence he calls "Sleestak." Ghettoputer appears to make his wishes known to Sleestak, although no one is sure whether this is the result of complex sign language, expert body posture reading, or simply beating Sleestak with a rubber mallet.
'Puter suggests the Czar suck it.