Mailbag – Smoke and Mirrors Edition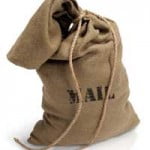 Gentle Readers,
Gormogon Operative BG writes in on a stack of $2 bills regarding the Debt Ceiling:
Illustrious Gormogons –

There's something I don't understand about this "one dollar of spending reductions for one dollar of debt ceiling hike" business. I could ask my congressman, but he's an imbecile who doesn't know anything, or our president, who only pretends to know everything. Or I could ask The Gormogons, who I find know more than I do about almost everything.

I don't know how the final numbers will shake out, but as of right now, the competing House and Senate versions both claim they'll increase the debt ceiling by $2 trillion or so, in exchange for $2 trillion or so in spending cuts over the next ten years. The biggest sticking point seems to be whether it will be a short-term increase (six months or so) or long-term (just past the next election).

Either way, we're going to be facing another debt ceiling debate by December next year. So the ceiling increase is good for only about 18 months, tops.

But the proposed spending cuts are spread out over ten years. Presumably, we'll be having this same argument next year or early 2013.

My questions:

1) What spending do they think they're going to cut in 2013 in exchange for the 2013 debt ceiling increase?
2) Why do they think that spending can't be cut today, but they'll be able to cut it in 2013?
3) The proposed cuts that are being spread out over the next ten years – will they be cuts compared to what was spent this year? Or will the cuts that they're looking to schedule in, say 2018, be cuts compared to whatever ridiculous amount was spent in 2017? In other words, if, say, the EPA's budget this year is $40 billion, and it's scheduled to get cut $10 billion in 2018, will its budget be reduced to $30 billion in 2018? Or will it be reduced $10 billion from the $65 billion it had meanwhile increased over the previous five years? I guess what I'm asking is, what is the baseline?
4) And aren't all these proposals for cuts ten years from now a pointless, phony exercise, since nothing that Congress does today is binding on any future Congress?

Frankly, I'm thinking more and more that the debt ceiling shouldn't be raised at all, and the government be forced to figure out how to scrape by on $200 billion a month. Let President Obama order all department and agency heads to figure out where they can save 5% of this year's budget, and let each agency head tell every executive and manager, all the way down to the section chiefs who manage fifteen employees, that they now have five percent less money than they thought they had, and as good managers, they have to figure out where to save that money or get fired.

And don't tell me there's a single office anywhere in the U.S. government that can't trim its sails by five percent.
Your observations, and the rhetorical questions are spot on. The Tea Party Coalition knows this, and they want to apply as much pressure as they can on both the Republican Party leadership and the Democrats so as to insure that they get their way.
I've stated in the past that the Progressives cannot be reasoned with. They have a goal and they will not deviate. President Obama, for example, extended the current tax rates (Dr. J. refuse to call them Bush Tax Cuts™) only to talk about tax increases 7 months and zero recovery later. He is a man that doesn't give up, that doesn't blink.
The Republicans have a long and storied history of blinking. Even St. Ronald Reagan (Ronaldus Magnus) blinked more than once. The most egregious example is when he traded $1 in tax hikes for $3 in spending cuts that never materialized. He learned from that mistake.
But, look what Tea Party so-called intransigence has gotten us: Real spending cuts, not to be confused with decreases in the rate of increase type cuts, albeit 10¢/year or so for every $1 increase in the debt ceiling. Also, IF Boehner wins, more cuts will come before the election. No commensurate balanced and reasonable tax increases (tongue firmly in cheek saying that) from Harry Reid. So, truth be told, the paradigm has shifted in D.C., much to President Obama's chagrin.
Regarding Government spending there is a ton of waste. First, departments are encouraged to spend all of their money so they can justify as much or more next fiscal year. It's feed forward, and promotes a waste mentality.
Dr. J. spent some of his time as a resident rotating at University affliated VA hospitals. There are plenty of employees that could be let go, but aren't due to union rules. There is a lot of silly paperwork and regulations that waste time and money. In addition the system doesn't always work together smoothly. Pharmacy gets evaluated on how well it comes in within budget and how few non-formulary requests it permits. The clinic gets evaluated similarly (% patients at goal with cholesterol for example). So, if a patient can't get their cholesterol to goal because they are being denied a bump up from 80 mg Zocor to 20 mg of Crestor (a more potent cholesterol medication), the clinic gets dinged for not being compliant with guidelines. Sadly its a no win for the director of that hospital as he gets evaluated for both clinic and pharmacy performance with one performance measure robbing Peter to pay the other's Paul. Stuff like that drives Dr. J. crazy.
Dr. J. has not seen the specifics regarding how much of this is kabuki theatre and how much of the cuts are real cuts, but there is enough substantive cutting to have prior bills arrive DOA. As you recall with the final spending bills for the 2011 FY, there were a lot of faux cuts.
In a post script, he adds:
BTW, with regard to your question today, "Has the government ever provided a product or service that you wanted more than an Apple product?"

Yes, it has. Aircraft carriers. If you told me to choose which institution, the U.S. Department of Defense or Apple Computer

would have to vanish tomorrow, I'd say "bye-bye, Apple." Because if our military were to vanish, Apple, and a lot of other things I like, would soon follow.
BG, you got Dr. J. on that count! There hasn't been a better military in the history of the world than ours.