If We Kill The Cow, No One Gets Any Milk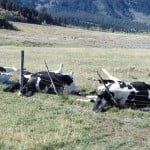 Unlikely as it seems, these words were spoken by Adam Urbanski, Rochester Teachers Association (union) president, in the context of difficult contract negotiations. It was an acknowledgment that a union cannot be so greedy that its employer can no longer afford to pay under the contract. Such greed is counterproductive for the union, and for the government and its taxpayers.
'Puter was thinking about this unexpected wisdom in the context of the current debt ceiling negotiations. He realized the debt and deficit problems cannot be permanently fixed, as a critical issue has not been addressed, and no one to 'Puter's knowledge is proposing to address it. The United States is taxing the snot out of the productive to subsidize the wholly unproductive, and in so doing is hamstringing the ability of the productive to produce enough to support the productive, let alone the unproductive.* We are killing the cow, and no one will get any milk.
And why must we discuss the tension between the productive and the nonproductive at all? Because in 2010, social safety net programs comprised fifty five percent (55%) of the federal budget. Further, in 2010, we spent $3.5 trillion, borrowing $1.3 trillion, or thirty seven percent (37%), of our expenditures. We are borrowing (increasing our national debt) primarily to pay for social safety net programs.
Our revenues do not currently match, and have not matched for a long time, our expenditures. And the single fastest growing segment of our outlays is social safety net programs. We are borrowing to subsidize today's nonproductive citizens, after exhausting the money of the productive we have taxed, which borrowed sums will have to be repaid by future productive citizens.
If you'd like to assume that all borrowed funds are used to pay for the non-social safety net programs, go ahead. But then you're left with very little additional money to do anything else, like fund defense, build roads or regulate polluters. And what little additional surplus would be left would quickly be eaten by the unchecked growth of social safety net programs over the next several years. That's why we must address this issue in any meaningful discussion of our national debt.
This is a touchy topic, and one into which 'Puter wades cautiously, lest readers misunderstand 'Puter's point. 'Puter is not talking about cutting off the aged, the infirm and the poor. 'Puter is talking about recalibrating the balance between the non-productive and the productive. As it currently stands, the benefits awarded to the nonproductive are threatening to swallow our future whole. The first person who writes to 'Puter claiming he's some kind of monster (for this post, not generally) who wants to kill grandma, the retarded and children is going to get an unpleasant 2:00 AM gutbooting from Mandy.
If the productive have a duty to the nonproductive to not let them exist in a horrid squalor, so to must the nonproductive have a reciprocal duty to the productive not to sentence them to indentured servitude to pay for benefits in excess of their needs. Note well 'Puter's use of the word need. Cable television, cell phones, microwaves, gaming systems, none of these are needs. Food, shelter, basic medical care are needs.
When 'Puter speaks of the nonproductive, he speaks simply in the economic sense. Generally, nonproductive citizens include, but are not limited to the elderly, the infirm, the disabled, the unemployed and the chronically, congenitally poor. Many of these groups overlap, requiring allocation of even more resources.
Our question must be twofold. First, what is the extent of the productive's duty to provide for the nonproductive? Second, in return for their sustenance free of charge, what is the scope of the nonproductive's duty to the productive?
It seems to 'Puter that the productive must provide basic human needs to the nonproductive, for so long as those people are unable for whatever reason to be productive. 'Puter believes the duty is greater to those who are permanently nonproductive through no fault of their own (e.g., the congenitally mentally and physically disabled). There is a lesser duty to those who, for example, have drunk or have drugged their way into nonproductivity. 'Puter would argue that there is only a limited duty to those who are willfully nonproductive, such as the able-bodied poor or the unemployed who will not take work that is beneath them.
Further, once the scope of the duty is defined, benefits levels can be debated. How nice a shelter must be provided? What level of medical treatment is required? What sorts of food ought we pay for? And again, the answer will vary by category of nonproductivity. We would want to provide an adult effected by Down Syndrome greater benefits than an adult with a heroin problem. Or even a 62.5 year old retired senior with above-poverty level retirement income.
The nonproductive likewise owe duties to the productive. The primary duties are: to use no more than you need and to get off the dole as soon as you are able. Compliance with these duties should be reassessed and enforced at least annually, if not more frequently, depending on the class of nonproductive citizen one is. If you can reasonably be expected to provide for yourself and your dependents, you should be required to do so. We have failed to cement this concept as the sine qua non of receiving taxpayer funded benefits.
To those who think it unfair for government to impose its will on its nonproductive dependents, 'Puter says bah. If nonproductive able dependents don't like it, better yourself somehow. Take a job, any job, and 'Puter is more than willing to meet you halfway. If you choose to do nothing, government should choose to give you nothing. The days of the free lunch (for the able) should be over.
It must be noted that progressive Democrats have over the last 70 years laid the groundwork for this crisis, through implementation of the New Deal and Great Society "social justice" programs. In setting up government to be the provider of last resort, rather than charities, government has driven charity to the margins. Where people get benefits from a faceless bureaucracy, rather than pastors and neighbors, they feel no reciprocal obligation not to overindulge. Hence, skyrocketing entitlement outlays currently, and for the foreseeable future. This severing of reciprocal obligation has been the greatest and most destructive unintended(?) consequence of government-as-sugar-daddy.
The question is not whether to provide taxpayer funded benefits at all to the nonproductive. It is rather the extent of benefits to be provided the nonproductive, balanced against the provision's effect on the economy, and by extension, the productive.
The discussion must be had, as uncomfortable as it is. If we do not, our trajectory towards looming insolvency will not change. If, after the discussion, we choose not to correct our course, at least the productive know a conscious choice has been made to bleed them dry, and they can plan accordingly.
*A subpart of this discussion not addressed here is whether subsidization of the productive is beneficial (e.g., business writeoffs, mortgage interest deductions, etc.) when weighed against simply leaving the productive alone.

Always right, unless he isn't, the infallible Ghettoputer F. X. Gormogons claims to be an in-law of the Volgi, although no one really believes this.
'Puter carefully follows economic and financial trends, legal affairs, and serves as the Gormogons' financial and legal advisor. He successfully defended us against a lawsuit from a liquor distributor worth hundreds of thousands of dollars in unpaid deliveries of bootleg shandies.
The Geep has an IQ so high it is untestable and attempts to measure it have resulted in dangerously unstable results as well as injuries to researchers. Coincidentally, he publishes intelligence tests as a side gig.
His sarcasm is so highly developed it borders on the psychic, and he is often able to insult a person even before meeting them. 'Puter enjoys hunting small game with 000 slugs and punt guns, correcting homilies in real time at Mass, and undermining unions. 'Puter likes to wear a hockey mask and carry an axe into public campgrounds, where he bursts into people's tents and screams. As you might expect, he has been shot several times but remains completely undeterred.
He assures us that his obsessive fawning over news stories involving women teachers sleeping with young students is not Freudian in any way, although he admits something similar once happened to him. Uniquely, 'Puter is unable to speak, read, or write Russian, but he is able to sing it fluently.
Geep joined the order in the mid-1980s. He arrived at the Castle door with dozens of steamer trunks and an inarticulate hissing creature of astonishingly low intelligence he calls "Sleestak." Ghettoputer appears to make his wishes known to Sleestak, although no one is sure whether this is the result of complex sign language, expert body posture reading, or simply beating Sleestak with a rubber mallet.
'Puter suggests the Czar suck it.