Hey Tony, you got the labels backwards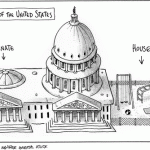 Philadelphia Inquirer political cartoonist, Tony Auth gets it wrong again today. He portrays the House who has passed a budget and a solution to the debt crisis with more bipartsanship than Obamacare and Stimulus combined as a playground.
Meanwhile, he presents the Senate, who hasn't passed a budget in over 800 days, as the august governing body that it perceives itself to be.
Would you expect anything less than an inversion of reality from the left? Of course not.
Got it wrong again, Tony.
Consider yourself dunked!