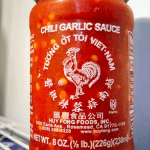 'Puter posted a while back on Huy Fong Vietnamese Chili Garlic Sauce. He extolled it myriad virtues and recommended all minions purchase copious amounts of said condiment immediately.
Being a good minion, Island Dweller indeed went and purchased a supply of the beloved sauce. His testimony follows:
I have located the vendor for your esteemed and highly-recommended. It is none other than Wal-Mart itself.

I have purchased a bottle of the product and tried it per your recommendation. Thus far it has been used on hamburgers, hot dogs, and salsa and burritos. I can say without fear of equivocation or exaggeration it performs precisely in accordance with your description. The back burn is indeed worthy of note. The "morning after" effect you describe also does indeed exist; I recommend this sauce for anyone who has had problems with being "bound up," as well as anyone who is "in the grip of the grippe," as it will definitely clear the sinuses and purge the entire system due to its ability to (apparently) thin the blood and thus enhance the filtering work of the kidneys and liver. As the menu changes over the following days I will let you know what else it's been tried on; I don't think it's going to clash with anything.
There are three takeaways from Island Dweller's missive. One, 'Puter is always right. Two, Huy Fong Chili Garlic sauce is the most underrated condiment available in America today. Three, Wal-Mart is the happiest place on earth, bar none.
Go get your Huy Fong Vietnamese Chili Garlic Sauce today, before your Gormogons take over (hostilely, of course) its manufacturer and hoard the entire output for our own nefarious uses.

Always right, unless he isn't, the infallible Ghettoputer F. X. Gormogons claims to be an in-law of the Volgi, although no one really believes this.
'Puter carefully follows economic and financial trends, legal affairs, and serves as the Gormogons' financial and legal advisor. He successfully defended us against a lawsuit from a liquor distributor worth hundreds of thousands of dollars in unpaid deliveries of bootleg shandies.
The Geep has an IQ so high it is untestable and attempts to measure it have resulted in dangerously unstable results as well as injuries to researchers. Coincidentally, he publishes intelligence tests as a side gig.
His sarcasm is so highly developed it borders on the psychic, and he is often able to insult a person even before meeting them. 'Puter enjoys hunting small game with 000 slugs and punt guns, correcting homilies in real time at Mass, and undermining unions. 'Puter likes to wear a hockey mask and carry an axe into public campgrounds, where he bursts into people's tents and screams. As you might expect, he has been shot several times but remains completely undeterred.
He assures us that his obsessive fawning over news stories involving women teachers sleeping with young students is not Freudian in any way, although he admits something similar once happened to him. Uniquely, 'Puter is unable to speak, read, or write Russian, but he is able to sing it fluently.
Geep joined the order in the mid-1980s. He arrived at the Castle door with dozens of steamer trunks and an inarticulate hissing creature of astonishingly low intelligence he calls "Sleestak." Ghettoputer appears to make his wishes known to Sleestak, although no one is sure whether this is the result of complex sign language, expert body posture reading, or simply beating Sleestak with a rubber mallet.
'Puter suggests the Czar suck it.