Embrace Your Mortality, Save Health Care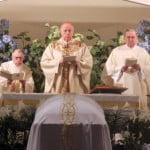 'Puter was reading this post concerning Medicaid availability and its impact on health outcomes over at Megan McArdle's place at The Atlantic. The takeaway is that there is no correlation one way or the other between availabilty of health insurance and mortality rates.
This got 'Puter to thinking. We spend gajillions of dollars a year on Medicare and Medicaid, not to mention privately paid for health care. And shortly we will commence to destroy our extant private health care system in the name of ObamaCare's divine promise of progress. But what does it all change? A fat lot of nothing.
We are all going to die. The only questions are how soon and how quickly. Medicine ultimately cannot change that. Man is not immortal, and never will be. Medicine provides us, hopefully, better health and comfort during the time we are here on Earth. To be certain, medicine has extended our life spans, but it has not changed our ultimate destinations: death.
Perhaps it would change the terms of the health care debate, for both the public and privately funded sectors, if we stopped pretending that medicine prevents our inevitable death, and instead focus on its improvement to our quality of life. We could stop referring to treatments as life-saving, as at best any medical treatment, no matter how successful the outcome, is merely life-prolonging.
Properly framed, the debate becomes different, though we are now much more clearly talking about rationing. The same stent that may make sense to put in 'Puter (age 42, white male, decent health) may not make sense to put into Grandpa (age 84, end stage Alzheimer's, uncontrolled diabetes, morbidly obese). Perhaps Grandpa gets pain relieving drugs instead. Grandpa still gets treatment, he simply doesn't get the same life-prolonging treatment 'Puter gets. Grandpa and 'Puter are both dying, it's just that if 'Puter receives the life prolonging treatment, the years gained are likely greater. Someday, 'Puter understands he may be in Grandpa's shoes.
Certainly 'Puter's suggestion does not address the question of who decides how much care 'Puter or Grandpa gets, but getting over the hurdle that not everyone will get every possible treatment is a large accomplishment. And let's not fool ourselves. Until very, very recently, doctors were rationing patient care, even for those who could have received a life prolonging intervention. In cases like Grandpa's, many times the family was not even consulted. Grandpa simply "died in his sleep."
No one should take any of this as being an argument for preventing people from paying out of pocket for whatever health care they want, no matter how useless or wasteful. If you want to spend your own money chasing immortality, God bless you. You're just not spending 'Puter's.
The difficulty in 'Puter's approach is selling the notion of inevitable death to a bunch of spoiled rotten Americans, especially the Boomers, who remain convinced that they, unlike every other human being who has ever walked the face of the Earth, will somehow manage to avoid their fate.
'Puter doesn't want to die, but he knows it's going to happen sooner or later. 'Puter only hopes that he dies with as much dignity as possible, and that God has mercy on his immortal soul. And no amount of health insurance can do a darned thing about either of those issues.

Always right, unless he isn't, the infallible Ghettoputer F. X. Gormogons claims to be an in-law of the Volgi, although no one really believes this.
'Puter carefully follows economic and financial trends, legal affairs, and serves as the Gormogons' financial and legal advisor. He successfully defended us against a lawsuit from a liquor distributor worth hundreds of thousands of dollars in unpaid deliveries of bootleg shandies.
The Geep has an IQ so high it is untestable and attempts to measure it have resulted in dangerously unstable results as well as injuries to researchers. Coincidentally, he publishes intelligence tests as a side gig.
His sarcasm is so highly developed it borders on the psychic, and he is often able to insult a person even before meeting them. 'Puter enjoys hunting small game with 000 slugs and punt guns, correcting homilies in real time at Mass, and undermining unions. 'Puter likes to wear a hockey mask and carry an axe into public campgrounds, where he bursts into people's tents and screams. As you might expect, he has been shot several times but remains completely undeterred.
He assures us that his obsessive fawning over news stories involving women teachers sleeping with young students is not Freudian in any way, although he admits something similar once happened to him. Uniquely, 'Puter is unable to speak, read, or write Russian, but he is able to sing it fluently.
Geep joined the order in the mid-1980s. He arrived at the Castle door with dozens of steamer trunks and an inarticulate hissing creature of astonishingly low intelligence he calls "Sleestak." Ghettoputer appears to make his wishes known to Sleestak, although no one is sure whether this is the result of complex sign language, expert body posture reading, or simply beating Sleestak with a rubber mallet.
'Puter suggests the Czar suck it.