David Brooks Reads Your Gormogons*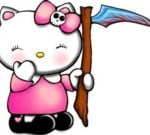 David Brooks must be reading your Gormogons, as is the rest of the New York Times' assemblage of editors and columnists. Everyone who is anyone reads your Gormogons for our trenchant analysis, Hello Kitty news and juvenile put-downs of one another. It's common knowledge.
Mr. Brooks in Friday's NYT pens an essay on Americans' fear of death and its resultant crushing effect on or budget. Mr. Brooks writes:
This fiscal crisis is about many things, but one of them is our inability to face death — our willingness to spend our nation into bankruptcy to extend life for a few more sickly months.
Hmmm. This topic seems oddly familiar to 'Puter. Perhaps it's because 'Puter wrote about the exact same topic, using almost exactly the same thesis last Friday, 8 July. 'Puter wrote
The difficulty in 'Puter's approach is selling the notion of inevitable death to a bunch of spoiled rotten Americans, especially the Boomers, who remain convinced that they, unlike every other human being who has ever walked the face of the Earth, will somehow manage to avoid their fate.
He also wrote:
We spend gajillions of dollars a year on Medicare and Medicaid, not to mention privately paid for health care. And shortly we will commence to destroy our extant private health care system in the name of ObamaCare's divine promise of progress. But what does it all change? A fat lot of nothing.
Of course, there is a substantial difference between the two columns. Brooks is getting paid for an idea 'Puter examined a full week prior.
'Puter awaits his lucrative NYT opinion columnist contract. The NYT can keep its worthless stock options, but a MoDo, PoMoHo pole dancing exhibition would be to 'Puter's liking.
*Thanks to Operative JAB who reminded 'Puter to write about this.

Always right, unless he isn't, the infallible Ghettoputer F. X. Gormogons claims to be an in-law of the Volgi, although no one really believes this.
'Puter carefully follows economic and financial trends, legal affairs, and serves as the Gormogons' financial and legal advisor. He successfully defended us against a lawsuit from a liquor distributor worth hundreds of thousands of dollars in unpaid deliveries of bootleg shandies.
The Geep has an IQ so high it is untestable and attempts to measure it have resulted in dangerously unstable results as well as injuries to researchers. Coincidentally, he publishes intelligence tests as a side gig.
His sarcasm is so highly developed it borders on the psychic, and he is often able to insult a person even before meeting them. 'Puter enjoys hunting small game with 000 slugs and punt guns, correcting homilies in real time at Mass, and undermining unions. 'Puter likes to wear a hockey mask and carry an axe into public campgrounds, where he bursts into people's tents and screams. As you might expect, he has been shot several times but remains completely undeterred.
He assures us that his obsessive fawning over news stories involving women teachers sleeping with young students is not Freudian in any way, although he admits something similar once happened to him. Uniquely, 'Puter is unable to speak, read, or write Russian, but he is able to sing it fluently.
Geep joined the order in the mid-1980s. He arrived at the Castle door with dozens of steamer trunks and an inarticulate hissing creature of astonishingly low intelligence he calls "Sleestak." Ghettoputer appears to make his wishes known to Sleestak, although no one is sure whether this is the result of complex sign language, expert body posture reading, or simply beating Sleestak with a rubber mallet.
'Puter suggests the Czar suck it.