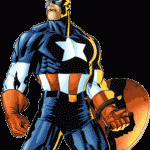 Yes, the short answer, is that Captain America: The First Avenger is a pretty solid movie. There is plenty in it to anger homeland haters: the movie is accepts as a given that the Nazis are evil, that America is great, and that the latter cannot allow the former to continue. American troops are smart, tough, and competent.Even the little kids in the film show a resolve to not be whiny or victims.
Yet it never goes over the top. This is not a jingoistic film, and the characters are fleshed out pretty well. Sure, it drags in a couple of spots, but makes up for it pretty well by punching the crap out of Nazis all over the place.
The Chris Evans transformation from homonculus to fighting machine is an inexplicable special effect: as critic Roger Ebert said, it is impossible to know exactly what Evans looks like in real life at this point. His role as tiny Steve Rogers, complete with overbite, is utterly and completely convincing. If you don't see it on the big screen, you may wonder whether it was realistic. It was, truly.
Hugo Weaving is terrific as the Red Skull, one of the comics' weakest villains; prone to sitting in a chair and lecturing about the inevitable defeat of America for an hour before getting punched out by Cap at the end… this Red Skull is a physically strong, masterful, action-oriented tough guy who openly mocks Hitler for being too much of a pansy. Hollywood managed to put together a bad guy who is somehow worse than a Nazi: Hitler wants to conquer the world; the Red Skull wants to kill it.
Stanley Tucci and a surprisingly elderly Tommy Lee Jones add real fire to the cast, with each challenging the other to the funniest line of the film at several points (Tucci wins, with a scene involving schnapps). Chris Evans is vastly better here than he was in The Fantastic Four, and shows a deep, team-playing Captain America who deep down is so serious about defending the little guy that he almost becomes obsessed with it. A great third act scene has him single-handedly saving 400 allied troops from a camp, and convincing you that he was absolutely confident he could do it. The best part was showing all 400 of the men coming back to the base—it is a pretty large number.
The film shies away from political commentary: a picture of FDR shows up in the background of a scene out of focus, much less than the Czar remembers in real life. To that end, you might wonder if the film was going to make a pointed political comment at all—and yes, Captain America does so toward the end, to the Red Skull, about the value of flags. Yet one more thing to stick in liberals' collective craw.
Minor beef: in the closing credits (stay to the end!), someone should tell the graphics folks that the American flag had only 48 stars.
See it? Well, the 8-year-old was a little disappointed by "all the kissing" (Cap receives two smooches from different women), but a certain 6-year-old thought it one of the most "awesome" films ever. Iron Man it ain't, and it lacks the humor of Thor, but it certainly rates as one of Marvel's best.

Божію Поспѣшествующею Милостію Мы, Дима Грозный Императоръ и Самодержецъ Всероссiйскiй, цѣсарь Московскiй. The Czar was born in the steppes of Russia in 1267, and was cheated out of total control of all Russia upon the death of Boris Mikhailovich, who replaced Alexander Yaroslav Nevsky in 1263. However, in 1283, our Czar was passed over due to a clerical error and the rule of all Russia went to his second cousin Daniil (Даниил Александрович), whom Czar still resents. As a half-hearted apology, the Czar was awarded control over Muscovy, inconveniently located 5,000 miles away just outside Chicago. He now spends his time seething about this and writing about other stuff that bothers him.