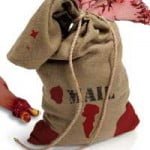 BG wrote this in angels on the head of a pin, and then sent us the pin:
Regarding your observation that "American liberals attempt to diminish if not redact Ronald Reagan's responsibility for ending the Cold War peacefully…"

Liberals damn Reagan with faint praise. They can't admit his was the force that destroyed the USSR and broke the back of galloping inflation, without acknowledging that he was indeed a great president. So they say he was a "great communicator," who got Americans to "believe in themselves again," which is the kind of thing you say about a good high school teacher.

Today, everyone, even my cats, now acknowledges the USSR was indeed rotten and weak and would collapse if pushed. But thirty years ago, the wise men and historians and policy wonks and New York Times editorial writers tried to demonize and ridicule the man who saw and spoke that truth. And when he was vindicated, they tried to appropriate that truth for themselves, the truth they had once so frantically denied.

Thirty years is apparently not enough for them to admit that the "amiable dunce" was right and they were wrong. Disgusting.
BG wonders if the Czar caught his cats reference. We did not.

Божію Поспѣшествующею Милостію Мы, Дима Грозный Императоръ и Самодержецъ Всероссiйскiй, цѣсарь Московскiй. The Czar was born in the steppes of Russia in 1267, and was cheated out of total control of all Russia upon the death of Boris Mikhailovich, who replaced Alexander Yaroslav Nevsky in 1263. However, in 1283, our Czar was passed over due to a clerical error and the rule of all Russia went to his second cousin Daniil (Даниил Александрович), whom Czar still resents. As a half-hearted apology, the Czar was awarded control over Muscovy, inconveniently located 5,000 miles away just outside Chicago. He now spends his time seething about this and writing about other stuff that bothers him.