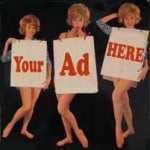 The Associated Press is reporting that the State of Illinois may have a plan that will alleviate the states crushing debt burden.
And you are asking, "Oh menacing and maniacal Mandarin, what is this brilliant plan that will throw of the yoke of debt and taxation on the citizens of Illinois?" Well it appears that the State of Illinois will be selling advertising space on your license plates. This plan is a total win-win for the tax payers of Illinois. Not only would you get a price reduction on the cost of your license plate, but the revenue generated by advertisements would add much needed dollars into Illinois' coffers.
Although your Mandarin wonders what the added cost are going to be when every license plate holder needs to change plates every year or two when the corporate sponsor updates their advertising campaign. And will drivers have a choice as to what they will be advertising on their license plate.
Your Mandarin can only imagine the angst of the church congregation that has an advertisement for Rough-rider condoms on their church van license plate.
Then again why stop at license plates? Why not wrap state vehicles in advertisement banners. I can see the advertisement now – "Your State Police, brought to you by the folks at Budwiser. Remember drink responsibly."

The Mandarin, whose real name is 吏恆, joined the order in 1309, and introduced the Gormogons into England during the 18th Century.
The Mandarin enjoys spending time with his pet manticore, Βάρἰκος, or Barry (who can be found in the Bestiary). When not in the Castle…well, frankly, nobody is quite sure where he goes.
The Mandarin popularized the fine art of "gut booting," by which he delivers a powerful kick to the stomach of anyone that annoys him. Although nearly universal today, the act of gut booting or threatening someone or something with a gut boot is solely due to him.