Sarah Palin is Attacking Germans!*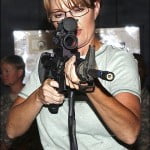 And not just the bad, Nazi Germans. But regular old, nuke-hating, Birkenstock wearing, razor-abhorring Germans! Oh, the humanity!
But how? How can we be sure it's Ms. Palin who is killing Germans?
The logic, my friends, is simple.
There is a new strain of E. Coli bacteria that has sickened scores of Germans.
The new bacterial strain appears to have originated in Spain, which country according to The Democratic Underground, had a televised midget mercilessly mocking Sarah Palin. Sarah Palin has internalized this slight into a deep, abiding hatred of all things Spanish.
Spanish tomatoes are suspect as a carrier of the toxic bacteria. Sarah Palin once had a tomato thrown at her in anger, making all tomatoes her sworn enemies.
And Germany, poor Germany. A German once referred to Sarah Palin as the Lady Gaga of the right. Sarah Palin hates Lady Gaga and fancies herself more of the Pat Benatar of the right. After this insult, Sarah Palin unfriended Germany on Facebook, and began to plot her dark revenge.
Put all the pieces together, and the answer is as plain as the nose on your face. Sarah Palin genetically engineered a toxic strain of E. Coli, traveled to Spain and sprayed it on outgoing shipments of tomatoes to Germany. Ms. Palin, evil genius that she is, managed to harm all three of her mortal enemies at once.
She has mortally wounded the reputations of Spanish agriculture and of tomatoes of all nationalities. And the hated Germans have received intense intestinal discomfort! Sarah Palin is the only person who could be responsible for such wicked madness!
It's there for those who choose to see! Thank Gaia this madwoman didn't win election, and we now have The One in office, who has benevolently overseen the destruction of the American economy in order to punish Wall Street and millionaires!
Spread the word! We're having a meeting later in the Castle basement to discuss ways to fight the Palin-led Spanish Tomato Conspiracy. It's bring your own tinfoil hat. Punch and pie will be provided.
*Actually, not. But 'Puter thought it would be fun to create a completely implausible conspiracy theory that could have been ripped from the fever swamps of the Huffington Post or the Democratic Underground. Frankly, it wasn't too difficult. And sadly, having read some of the posts at those two websites, it's difficult to believe some bonehead hasn't already posted something along these lines there.

Always right, unless he isn't, the infallible Ghettoputer F. X. Gormogons claims to be an in-law of the Volgi, although no one really believes this.
'Puter carefully follows economic and financial trends, legal affairs, and serves as the Gormogons' financial and legal advisor. He successfully defended us against a lawsuit from a liquor distributor worth hundreds of thousands of dollars in unpaid deliveries of bootleg shandies.
The Geep has an IQ so high it is untestable and attempts to measure it have resulted in dangerously unstable results as well as injuries to researchers. Coincidentally, he publishes intelligence tests as a side gig.
His sarcasm is so highly developed it borders on the psychic, and he is often able to insult a person even before meeting them. 'Puter enjoys hunting small game with 000 slugs and punt guns, correcting homilies in real time at Mass, and undermining unions. 'Puter likes to wear a hockey mask and carry an axe into public campgrounds, where he bursts into people's tents and screams. As you might expect, he has been shot several times but remains completely undeterred.
He assures us that his obsessive fawning over news stories involving women teachers sleeping with young students is not Freudian in any way, although he admits something similar once happened to him. Uniquely, 'Puter is unable to speak, read, or write Russian, but he is able to sing it fluently.
Geep joined the order in the mid-1980s. He arrived at the Castle door with dozens of steamer trunks and an inarticulate hissing creature of astonishingly low intelligence he calls "Sleestak." Ghettoputer appears to make his wishes known to Sleestak, although no one is sure whether this is the result of complex sign language, expert body posture reading, or simply beating Sleestak with a rubber mallet.
'Puter suggests the Czar suck it.