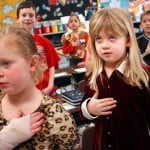 And so during the opening of the US Open coverage, NBC showed a quick segment of some children reciting the Pledge of Allegiance. Curiously absent from the pledge were the words "under God." And boy, did the fireworks come out. Boycotts were called of NBC, which given their perpetually sagging ratings may not be all that effective.
Some interesting things here: the Czar thinks people are right to be upset, but they are for the wrong reasons.
Did NBC edit those words out to promote some atheistic communist message? No—people are so sharp-eared to have heard that omission, but seemed to miss that "indivisible" was also left out during the jump cuts. This sets up a random pattern that suggest the edits were stochastic.
So NBC is telling the truth when they say they did not do it to upset anyone. The funny irony here is that NBC, if they wanted to be unpatriotic, would simply have cut out the whole thing. They put in the Pledge of Allegiance to demonstrate patriotism. So imagine NBC's surprise when they found out how it pissed a lot of people off.
But the Czar thinks NBC does not deserve a free pass. Why not? Because how much valuable air time did they save by cutting out three words from the Pledge? A second at most? So why do it at all?
The answer is because they did not think anyone would notice. Because the dimwitted director ordered his AVVID crew to trim off a few seconds here and there, and probably didn't like the exact shot. The conversation to the crew probably went like this: "Timbo, I really hate the way the shadow cuts across that girl's face when she says 'under God.' Let's trim that, and we should also get rid of where the kids say 'indivisible,' too, because you can hear a kid bump the desk. I think everybody got enough of the flavor of the Pledge, so we can cut those and get on to the next segment. I have a lot to trim there."
And right now, the director who requested those cuts is rolling his eyes that people are making such a fuss over his work of art. "So I cut the Pledge. Big effing deal. You really want shadows on faces and desks getting bumped? You do? Because I can put those in all day and all night if that's what you want!" Oblivious to the fact that people believe that a patriotic demonstration should not edit its own expression of patriotism.
If you were stretched for time, why not cut some of the feel-good segments about the players? Or pre-empt the pre-game chatter? Or delete the promotional tie-ins? NBC would recoil at these suggestions: but these are integral parts of the golf coverage! Exactly—and this is why you do not cut a ritual demonstration—every part is in there for a reason. Imagine if some director simply skipped the "Live from New York…" tagline on SNL. When a minister wants to get a 2:00 wedding finished before the 3:00 group comes in, does he omit some of the vows, the candle lighting, or skip around the religious readings? No! Because you do not omit parts of a ritual. You ruin the whole thing if you trim even a little.
By now the Czar has made his point. NBC did not cut those words out based on some specific malevolence.
They cut them because they are morons. And there is a difference. With luck, NBC has learned from this.

Божію Поспѣшествующею Милостію Мы, Дима Грозный Императоръ и Самодержецъ Всероссiйскiй, цѣсарь Московскiй. The Czar was born in the steppes of Russia in 1267, and was cheated out of total control of all Russia upon the death of Boris Mikhailovich, who replaced Alexander Yaroslav Nevsky in 1263. However, in 1283, our Czar was passed over due to a clerical error and the rule of all Russia went to his second cousin Daniil (Даниил Александрович), whom Czar still resents. As a half-hearted apology, the Czar was awarded control over Muscovy, inconveniently located 5,000 miles away just outside Chicago. He now spends his time seething about this and writing about other stuff that bothers him.