Medea H8s That Sarah Girl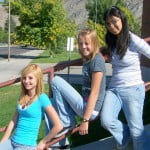 Hiya again!!! Its meeee! Medea Mainstream, and I am back to tell you all about my latest summer project.
So you know how that Sarah Palin girl is like the valedetorian for the whole high school because she is a senior? And how she is soooo pretty and soooo smart and sooo everything that all the guys want to be with her? And how we try to talk to her at lunch to ask her why shes such a pill but she always has a quick putdown for us?
Check it out! N-V me!!!! because I got her email journal. How awsome is that? Anyway I got it, and me and some of the other freshman girls are going thru it right now. Yeah, there isn't a whole lot in here. But were going to keep going thru it until we find something bad about her.
We will find something even if we have to make it up! Its prolly true anyway. Duh! We are sooo totally gonna ruin her for being so popular.

Божію Поспѣшествующею Милостію Мы, Дима Грозный Императоръ и Самодержецъ Всероссiйскiй, цѣсарь Московскiй. The Czar was born in the steppes of Russia in 1267, and was cheated out of total control of all Russia upon the death of Boris Mikhailovich, who replaced Alexander Yaroslav Nevsky in 1263. However, in 1283, our Czar was passed over due to a clerical error and the rule of all Russia went to his second cousin Daniil (Даниил Александрович), whom Czar still resents. As a half-hearted apology, the Czar was awarded control over Muscovy, inconveniently located 5,000 miles away just outside Chicago. He now spends his time seething about this and writing about other stuff that bothers him.