Letters, And Several Of Them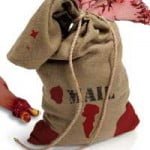 My, but has the Czar been ever so remiss on his email! Apologies, friends, for our lack of attention.
First up, we have that other Dr. J., that is, Dr. (KN)J, who writes in:
I know that the empty leash story was a good while back, and this is certainly different from my usual snark, but I had to write it for my own mental health so I thought I'd send it to you guys. We mathematicians like to think we're Spock, but there's a lot of McCoy in some of us as well…

Driving past a red barn, you see a beautiful bay Thoroughbred,
grazing in the sunshine with his friend,
a stocky red and white Paint.

What you might see,
if you looked closely enough,
is a few small scars on his face,
testament to the skill of a surgeon
and the love of his mistress.

She had taken extraordinary steps
to stave off the inexorable progress of a disease,
and lengthened by one year,
by two years,
the time she had with him, the time they had together:
quiet mornings and afternoons in the barn,
extended trots,
single loops,
and working on his right-lead canter.

What you might see,
but probably would not connect with the horse,
is this same woman,
riding in a pickup with her husband, weeping,
to wait for the vet to arrive and do what must be done.

What you cannot see is that the disease has returned,
with implacable ferocity,
now beyond the bounds of any surgical skill,
taking the beautiful bay Thoroughbred's sight and, soon, his mind.

What you cannot see is that he cannot see you –
only by the aid and comfort of his companion, the Paint,
is he able to graze peacefully,
navigating his sightless way through the usual maze of fences and gates.

The disease must and will be stopped, but only by capitulation.
Already she misses her dear, dear friend and her time with him,
their time together.

Only in her memory,
and in the memories of those, like her husband, who watched them together,
will those times remain forever:
quiet mornings and afternoons in the barn,
extended trots,
single loops,
and working on his right-lead canter.

—Dr. (KN)J,

Royal Mathematician to the Gormogons
Very nice indeed. And we appreciate you thinking of this poem in response to our own post.
Meanwhile, the other Dr. J is actually hanging out in Muscovy this weekend, where he has already dined on real Chicago pizza (not that deep dish mud we push on the tourists) and Chicago-style barbecue. He adds this:
Given the degree to which we are divided (Red and Blue, D & R, Elite Bicoastal Progressive and Rest of Us, gay and straight, ethnic/not-ethnic, sky-god worshiping/empiricist), I thought that leaving out indivisible was just further commentary, or weird, or as you said, stupid.

That being said, were I a sinister evil force in the universe (Soros? Palpatine?), I'd drop the under God and then also cut indivisible just to mess with people and give myself plausible deniability. "Ah, it was just editing, you wouldn't want me showing the little boy in the 3rd row picking his nose while saying under God would you?"

Dr. J
But that would imply a conspiracy that we knew nothing about. The Czar gave no such order. 'Puter gave no such order. Mandarin is over here shaking his head. No, wasn't us.
Meantime, Sky writes in:
O great and powerful Czar;

I think you fail to draw a distinction between 'most American Jews' and 'American Jews who have been to Israel'. I acknowledge just how privileged I am to have been born in the United States – let alone in New York, where 'everyone's a little bit Jewish' – but I never realized just how much of an Other I still was, even among friends, until I walked the streets of Tel Aviv. We are a tribal species, and in the Diaspora, our tribe is used to keeping our heads down, blending in, laughing along with the jokes and stereotypes even as they flow from the lips of friends.

For anyone with a passing familiarity with the history of World War II and the Shoah, Israel's existence and security provides a sense of peace and comfort. Where shiploads of Jews were turned away from British Palestine, and even America, in the leadup to Germany's ultimate plans, there now exists a place where any Jew worldwide can relocate if his situation at home becomes too dire. How long would that take here, in the face of severe economic distress? How long until latent prejudice and barroom jokes become violence and scapegoating?

It may not occupy my thoughts every day – those are reserved for things of more pressing concern, like my family's happiness, the end of cheap oil, whether I'll pass the Bar exam – but I follow the international news from the region with close and rapt attention, as do those I know who have set foot in Israel, and are grateful for the safe haven she offers.

Then again, perhaps I just associate with more conservative Jews.

– Sky, Royal Falconer to the Gormogons.
Our royal falconer has been with us for many years, and the Czar regrets rarely if ever speaking to him when he strolls through the bestiary. The Czar regrets this, and will make more of an effort to speak to Sky, because his insights are very good, and one of his falcons has gotten quite good at picking expensive wristwatches off of people hailing cabs. That's a skill your average falconer just isn't going to get.
But Sky does not strike us as the more liberal Jewish democratic, to whom the piece was directed. If he is, then by all means, we have many legitimate questions to ask!
Weirdest of all, MC writes in after a long absence to ask if 'Puter is any relation to disgraced Countrywide CEO Angelo Mozilo.
| | |
| --- | --- |
| | |
| Angelo Mozilo | Ghettoputer |
Eewww. That is a fair question, though. History does not well record who 'Puter really is. Only a few of us know, or believe we know, his real name and of the horrific crimes attributed to him (accurately). He just sort of showed up decades ago, made a few spurious claims, and we just sort of got used to him.
This is something worth investigating.

Божію Поспѣшествующею Милостію Мы, Дима Грозный Императоръ и Самодержецъ Всероссiйскiй, цѣсарь Московскiй. The Czar was born in the steppes of Russia in 1267, and was cheated out of total control of all Russia upon the death of Boris Mikhailovich, who replaced Alexander Yaroslav Nevsky in 1263. However, in 1283, our Czar was passed over due to a clerical error and the rule of all Russia went to his second cousin Daniil (Даниил Александрович), whom Czar still resents. As a half-hearted apology, the Czar was awarded control over Muscovy, inconveniently located 5,000 miles away just outside Chicago. He now spends his time seething about this and writing about other stuff that bothers him.