Is Red China's New Color Green?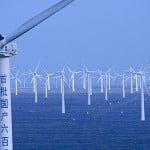 Liberal suckers all over the US have been really, truly impressed with China for many disturbing reasons. One such example is China's surprising and laudable move to being a green country. Why, don't you know, China is leading the US by a huge margin toward solar, geothermal, and other green technologies. Why, oh why, can't the US follow their lead?
Possibly because we are smarter than that. China has really hoodwinked the marketing department of liberalism—the group otherwise known as the media—with this steaming pile of organic fuel.
China has a horrible record on its own environment, ranging from a serious shortage of potable water (caused by decades of dumping wastes into fresh-running water that make filtration and purification hard), to burying toxic waste into landfills and then building homes over the result.
But but but, the retort comes, they are leading the way on solar power: they have more windfarms than the US, and their geothermal installations are going up. True! But China has four times the population of the US. In order to study how each person benefits from energy production, you need to use per capita analysis, and not gross totals. And there, China is well behind the US. There is less solar power, less geothermal, and less wind powered electrical production per person than the US.
Yet China opens a new dirty coal-burning each day, which has allowed China to surpass the US in terms of maximum pollution output. China might be spending more money in total than the US on green technology, but they are clearly depending far more on non-green energy.
Okay, well, maybe—but China has good intentions to move off polluting energy production! And… not quite. On the one hand, you should not bet anyone's money on "China's good intentions," because there are precious few examples of such a statement proving true. On the other hand, China is attempting to support massive growth—and there literally is insufficient supplies of coal, nuclear, and hydroelectric power to meet the need. China is implementing green technologies because they have no other choice. So much for good intentions.
This is where we get to the final rebuttal: even so, why can't the United States move with such focused determination on green technology? And ultimately, this is where all the praise for China leads us: it has nothing to do with China, but comes down to when (or whether) the US will move in a similar direction.
And until the physics and economic realities on energy production change, the answer is the same: in five more years, no matter year you ask the question. Say goodnight, China.

Божію Поспѣшествующею Милостію Мы, Дима Грозный Императоръ и Самодержецъ Всероссiйскiй, цѣсарь Московскiй. The Czar was born in the steppes of Russia in 1267, and was cheated out of total control of all Russia upon the death of Boris Mikhailovich, who replaced Alexander Yaroslav Nevsky in 1263. However, in 1283, our Czar was passed over due to a clerical error and the rule of all Russia went to his second cousin Daniil (Даниил Александрович), whom Czar still resents. As a half-hearted apology, the Czar was awarded control over Muscovy, inconveniently located 5,000 miles away just outside Chicago. He now spends his time seething about this and writing about other stuff that bothers him.