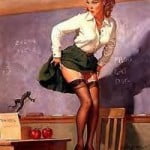 'Puter spends a lot of time around here bashing teachers' unions because, well, teachers' unions so richly deserve bashing. Teachers' unions exist solely to enrich their members at the expense of taxpayers and children, all the while claiming to champion the best interest of the children. Teachers unions are loathesome and despicable. That said, individual teachers are not. And 'Puter's not just saying that because he's sleeping with one.
'Puter watched as Mrs. 'Puter and her cohort in the local high school science department wrapped up their year. 'Puter was disgusted by the treatment teachers received at the hands of parents, administrators and students alike.
Without getting into gory details, kids whined to parents, who bitched to administrators, who then took it out on the teachers. Children in this suburban Rochester school district are precious snowflakes who cannot be told "no" for any reason. Well, 'Puter's had about enough of this self-esteem, educrat enabled horse shit.
Here are some random thoughts 'Puter would like to share with parents, students and administrators, some based on the aforementioned year end horse shit, some not.
1. Parents, your children may be precious to you, but that does not entitle them to a grade they have not earned. Don't call the teacher to bitch about Moonpie's chemistry grade when you haven't done your homework. Usually, Moonpie's earned the grade he's received. He's failed every test, turned in about 10% of the assigned homework and done 4 out of the 30 state required labs. Ninety-nine times out of a hundred, it's not the teacher's fault, it's your kid's fault.
Start with the baseline assumption that your kid is wrong. In so doing, you will rarely be disappointed, except in little Moonpie. Teachers have good and bad days, but they can usually pretty quickly and accurately back up a grade with actual data.
2. Students, do not give hand jobs under the lab bench during class time. You will get suspended, and it distracts the rest of the class. (Actually happened last year).
As a corollary, young ladies, stop dressing like whores, then complaining when classmates spend most of thier free time staring at your hootie-skimming miniskirt or barely constrained sweater puppies. Here's a simple test: if you can't bend over to pick up a pencil without exposing yourself, don't wear those clothes to school.
Young men, take off your gosh-darned hats, cut your danged hair and pull up your pants. No employer is going to put up with your fashion statements out in the real world. And, you look stupid.
And, piling on, speak in complete sentences, shake hands firmly, look people in the eye when you're speaking to them and smile. For the love of all that is good, learn some basic manners.
Treat your teachers as humans, and as superiors (even if they are clearly not), and you'll be pleasantly surprised at the results you get.
3. Administrators, when a parent calls to bitch about a teacher, follow this procedure. Ask if the parent has spoken to the teacher about his concerns. If not, tell the parent to do so, and end the conversation. Tell the parent to call back after they have spoken with the teacher, should their concerns not be resolved.
Assuming the parent has spoken to the teacher and not been able to bully the teacher into submission –er, 'Puter means — convince the teacher of the merit of his position, require the parent to put his complaint in writing and sign it. After receiving a signed complaint, discuss it with the teacher directly, getting her side of the story. Make a rational decision based on all the facts, even if it pits you against a powerful parent. Do your stinking job, and don't puss out. Put a copy of the signed complaint in the STUDENT'S (not teacher's) file.
You'd be amazed at how quickly complaints will drop. Most complaints do not rise to the level that a parent wants to put it in writing. An added benefit is that you will be able to identify frequent flier bitchers by the number of complaints stored in their Buttercup's file.
4. Students, if you are having difficulty with a teacher, go see the teacher and discuss your concerns with them. It's what grown ups have to do, and what you will be required to do once you go into the real world. It's good training for you, and most teachers will appreciate the honesty.
Sometimes, teachers do make mistakes, and if you quietly, privately and rationally discuss your concerns, the teacher will most likely correct the error, if there is one. As an added bonus, you gain respect for yourself, and the teacher respects you as a decent human.
5. Parents, simply because you pay school taxes does not entitle you to run your child's classroom. It entitles you to put your kid into a giant sausage making machine where the teaching is geared to reach the middle two thirds of the bell curve, guaranteeing a less than adequate educational outcome for the those at the very top.
If you want a top notch education for your top notch student, you're going to have to pony up for private school on top of your taxes. Sorry, that's the sad truth.
It's not that teachers wouldn't love to teach to the top end of the class, it's that the system and the rest of the parents won't let them. The majority of parents have the odd dichotomy of believing in meritocracy on the athletic field, but not in the classroom. If coaches had to put up with the crap teachers do, the 5′ 2″, 300 pound asthmatic would get equal playing time with the star quarterback, damn the consequences to the rest of the team.
This asininity leads to suboptimal education outcomes for everyone, except the special ed students. They get gold plated education at the general ed students' expense, but that's a topic for another day.
For example, at Mrs. 'Puter's school, parents are allowed to determine whether their precious snowflake is advanced enough to be in honors or AP courses, regardless of past performance or teacher recommendations. This leads to less rigorous courses because the teachers are hamstrung by Johnny Belowaverage in AP Physics. It also leads to parents calling and bitching because Johnny Belowaverage isn't getting a 97 like he did in remedial art.
Whew. That was a lot of ranting to get out of 'Puter's misshapen head. 'Puter's point is this: teachers are people and deserve to be treated with respect. Currently, many are not. Remember, you can hate the teachers' union, but you ought to respect individual teachers (provided they're not creepy pedophiles or otherwise asshats or criminals).
So, get out of there and respect the Hell out of a teacher today. Or sleep with one, like 'Puter and Czar. You might find you like the results.

Always right, unless he isn't, the infallible Ghettoputer F. X. Gormogons claims to be an in-law of the Volgi, although no one really believes this.
'Puter carefully follows economic and financial trends, legal affairs, and serves as the Gormogons' financial and legal advisor. He successfully defended us against a lawsuit from a liquor distributor worth hundreds of thousands of dollars in unpaid deliveries of bootleg shandies.
The Geep has an IQ so high it is untestable and attempts to measure it have resulted in dangerously unstable results as well as injuries to researchers. Coincidentally, he publishes intelligence tests as a side gig.
His sarcasm is so highly developed it borders on the psychic, and he is often able to insult a person even before meeting them. 'Puter enjoys hunting small game with 000 slugs and punt guns, correcting homilies in real time at Mass, and undermining unions. 'Puter likes to wear a hockey mask and carry an axe into public campgrounds, where he bursts into people's tents and screams. As you might expect, he has been shot several times but remains completely undeterred.
He assures us that his obsessive fawning over news stories involving women teachers sleeping with young students is not Freudian in any way, although he admits something similar once happened to him. Uniquely, 'Puter is unable to speak, read, or write Russian, but he is able to sing it fluently.
Geep joined the order in the mid-1980s. He arrived at the Castle door with dozens of steamer trunks and an inarticulate hissing creature of astonishingly low intelligence he calls "Sleestak." Ghettoputer appears to make his wishes known to Sleestak, although no one is sure whether this is the result of complex sign language, expert body posture reading, or simply beating Sleestak with a rubber mallet.
'Puter suggests the Czar suck it.