In the Dead of Night, Love Bites…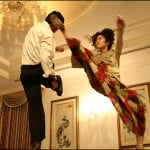 Your inscrutable Mandarin nearly spat his iced tea all over his keyboard when he read this headline, "Man Allegedly Wounded by Two Booty Call Ninjas."
To summarize the story, man calls ex-girlfriend for a sexual rendezvous, ex-girlfriend says sure, ex-girlfriend text messages man and tells him she is waiting for him in the alley, man goes to alley where the ex-girlfriend and her new boyfriend attack man with nunchuks and throwing stars.
This sounds like a cross between the Jerry Springer show and some Saturday morning Kung-fu movie on some obscure UHF channel.
Really, booty call ninjas. Ha!

The Mandarin, whose real name is 吏恆, joined the order in 1309, and introduced the Gormogons into England during the 18th Century.
The Mandarin enjoys spending time with his pet manticore, Βάρἰκος, or Barry (who can be found in the Bestiary). When not in the Castle…well, frankly, nobody is quite sure where he goes.
The Mandarin popularized the fine art of "gut booting," by which he delivers a powerful kick to the stomach of anyone that annoys him. Although nearly universal today, the act of gut booting or threatening someone or something with a gut boot is solely due to him.