"The Eye of Sauron has averted its gaze" writes Dr. J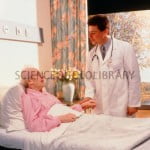 ŒV,
Remember when HHS said that they have better things to do: "Instead, we will pursue other initiatives that build on our efforts to increase access to health care providers nationwide."
They're going to be going more in-depth in studing subjects' sexual history in their National Health Interview Survey.
To be fair, the NHIS is a valuable epidemiology tool for both patient-care and research purposes.
Dr. J. just has fond memories of a classmate in medical school spending fifty minutes of the two hours allotted for his Physical Diagnosis final exam (where you take a history and do a physical on a patient in the hosptial) taking an exhaustive sexual history of an octogenarian admitted with congestive heart failure.
The timing of the article made him giggle.
Best,
Dr. J. (who is far too silly this week)

Don't ask impertinent questions like that jackass Adept Lu.