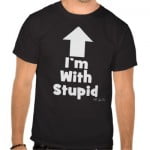 Sometimes things start to take on a life of their own. President Obama continues to slide—even more precipitously—in the polls. At this point, it appears that a half-loaded stapler stands a very good chance of defeating President Obama in the election. The Czar says this because a Swingline in Canton, Ohio, just brought in $180,000 in campaign funds in less than 24 hours, and it has yet to declare its candidacy.
Mitt Romney continues to hold the largest numbers, but has lost some of his power: where he had 45% of the vote a couple weeks back, he has dropped to (a still impressive) 33%. Michele Bachmann has leapt to second place with 19%, which is a rate of increase faster than Mitt's decrease. Whatever she's doing she should keep it up. Her name recognition is )this close( to Romney's at this rate, and by this point next month SNL will be looking to hire on its 148th cast member this season solely to make her look bad.
Equally astonishing is that Herman Cain, whom most people consider unelectable on a practical assessment, landed third with a full 10% support. Apparently, he said something that didn't make most people bite their knuckles in dread.
Tim Pawlenty and Rick Santorum must be grimly assessing their futures, since they both finished behind New Gingrich—who is so popular that two more of his employees have left. Newt is going to have to face facts: right now, the only staff members still working to help him connect to the average American are his bonsai gardener, his left-hand-only manicurist, and a posse man called Yatto, who polishes Newt's Ping clubs and restocks the Maybach's champagne caddy.
Rick Huntsman wound up with 2% of the support, which indicates that 98% of likely GOP voters view him as a Democrat. This should come as a surprise to the President, who very likely thought Huntsman was a Democrat, what with the drawer full of love letters to the One, lavish back rubs for China, and apparently some scandal brewing about Iran. Huntsman is one misappropriated funding of a sext message away from being a Democratic congressman.
Even Ron Paul managed 7% of the vote, but he was too busy throwing rocks at the moon "for being too consistently lazy" to respond. This is interesting news that 7% of the GOP believe Dr. Paul to be good presidential material, because a good 8% of GOP voters believe in astral projection, Bigfoot, and UFOs.
Curiously, 40% of likely GOP voters are unfamiliar with Rick Santorum, and of those, 25% were under the impression that Santorum is the part of the church between the apse and the nave. 75% of likely GOP voters thought Bachmann is a true conservative; at first, only 11% of likely Romney supporters thought he was conservative, but changed their minds after seeing the poll results to say he was 80% conservative, now that they see this is a good thing. They are rewriting their introduction to include this. Perhaps that joke was too obscure.
Governor Rick Perry (R-TX) was not included in the poll largely because he has not indicated he is running. Gov. Perry did say that he has achieved more than all the other candidates combined, created more jobs than the rest, and went on to bend a steel bar in his teeth while pulling a milk wagon. Perry has not made up his mind about running for President, since he understands that Slim Jim is looking for a new spokesman.

Божію Поспѣшествующею Милостію Мы, Дима Грозный Императоръ и Самодержецъ Всероссiйскiй, цѣсарь Московскiй. The Czar was born in the steppes of Russia in 1267, and was cheated out of total control of all Russia upon the death of Boris Mikhailovich, who replaced Alexander Yaroslav Nevsky in 1263. However, in 1283, our Czar was passed over due to a clerical error and the rule of all Russia went to his second cousin Daniil (Даниил Александрович), whom Czar still resents. As a half-hearted apology, the Czar was awarded control over Muscovy, inconveniently located 5,000 miles away just outside Chicago. He now spends his time seething about this and writing about other stuff that bothers him.