Cars 2: Mater, Big Oil is Bad, Mater, Americans are Dumb, and Mater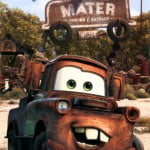 Know how you meet somebody who is pretty funny, but you realize that you can take maybe 20 or 30 minutes of him before the bit gets tiring and you think he should shut up? Cars 2 is quite a bit like that with Mater, and then they give you at least 45 minutes more of him.
It isn't that Cars 2 is a bad film…it's just that it isn't Cars. The first film introduced a range of wacky, small-town folks, with a self-centered but well-meaning Lightning McQueen playing the Doc Hollywood role. What made the first film so great was how the perpetually friendless McQueen learned the value and strength in each and every one of those weird personalities, and realized that everybody is good at something, and if you give them a chance, they will pull together for you better than any team.
Plus, it had a great side story about the decay and crumbling of the old America—the real dirt and dusty America that was being replaced by a cloned, nationwide Los Angeles; and how some people might not, actually, like that. The scene where Sally enlightens McQueen to the Radiator Springs of the early 1960s is totally superb, and just as good as the scene where Lightning—in a humorously clumsy but ultimately touching way—recreates the town for one magical night with neon signs and vintage music.
All that is chucked out the window in Cars 2. The film is a painfully Disney-esque sequel: a stunning array of new characters designed to be sold in stores, whizz-bang scenes, cheap jokes, and so much Mater—Mater Mater Mater—that even Dan "Larry the Cable Guy" Whitney probably asked for a ten-minute break during recording.
The brilliant cast of the first movie—minus Paul Newman and George Carlin, of course—is reduced to less dialogue than you might see in a Burger King cross-marketing commercial. Most get no more than three sentences of spoken words throughout the whole movie. The brilliant Tony Shalhoub is wasted, with his neurotic italiophile character making the most of the six or seven scenes he has (including a genuinely funny scene when he attempts to read a letter by Mater in Mater's voice, his thick Italian accent notwithstanding). Bonnie Hunt, Cheech Marin, Jenifer Lewis, and Paul Dooley, and the rest of the first movie's cast could have their entire combined dialogue put into a fifteen-second bit. There's that little of them. But then, the kids have already bought those toys, so big deal.
Instead of McQueen realizing that the world can be quite small and precious, you have Mater acting like the ugly American in Japan. Instead of a cynical, resentful small town learning to trust a stranger, you get Mater bungling an espionage case in Italy. Instead of an ensemble cast of characters learning that each is wrong about the others, you get Mater discovering jet rockets around London. Oh yeah, and something about a race that McQueen appears in from time to time.
One of the hallmarks of the first film was its endless creativity: realistic landscapes looked like parts of cars; realistic buildings looked like parts of cars, and clever automotive terms were worked into product names and locations. This film tries to duplicate that, but never quite succeeds. It all seems so forced: you can almost predict when and where the background joke will occur, and you realize it is purely a retread (wait, we just got that!) of an idea lifted directly from the first film.
The main plot really seemed like a B-plot inexplicably pushed front and center. An oil company wants to discredit a new alternative fuel by sabotaging a worldwide race. A pair of British agents (Michael Caine and Emily Mortimer, who though very good get entirely too much screen time) seek to discover the mastermind behind the operation. And to be quite blunt, if you can't figure out who it is in the first twenty minutes, you must have been in a long line buying popcorn. Let's see: which is the one character who cannot be accounted for? Oh yeah.
And as you have likely heard, Pixar wants you to know that Big Oil companies are bad. Alternative fuels are good. And in case you did not catch it, you will be reminded at several points throughout the film.
The quality of animation is actually too perfect: there are scenes that are so realistic that they seem to border on counter-productive. You know that uncanny valley effect? Pixar just about hits it here, with scenes so perfectly animated that it looks like they just ran physical models of the cars through a real landscape. You begin to suspect it might have been easier and less expensive to do it that way. Next time, Pixar, dial back the realism about 2%.
A special mention to John Turturro, who provides the voice of Francesco Bernoulli. Bernoulli is an Italian formula racer who hectors and taunts Lightning McQueen—but realizes that McQueen and he are kindred souls long before McQueen himself discovers that Bernoulli, for all his teasing and chassis-thumping, is actually a decent kind of pal to have. This alone could have been the core of a great story line, with Turturro delivering dazzling dialogue, but instead this becomes the C-plot, and it is a spoiled opportunity.
Cars 2 isn't a total disaster. Many scenes are quite clever, very funny, and well-executed. However, it is tough to think of a positive without immediately producing a negative to go with it. The problem with Cars 2 is that the first film was so damned brilliant, you would think that five years of time to perfect a sequel would not have resulted in a two-hour Disney channel sitcom.
Starring Mater.

Божію Поспѣшествующею Милостію Мы, Дима Грозный Императоръ и Самодержецъ Всероссiйскiй, цѣсарь Московскiй. The Czar was born in the steppes of Russia in 1267, and was cheated out of total control of all Russia upon the death of Boris Mikhailovich, who replaced Alexander Yaroslav Nevsky in 1263. However, in 1283, our Czar was passed over due to a clerical error and the rule of all Russia went to his second cousin Daniil (Даниил Александрович), whom Czar still resents. As a half-hearted apology, the Czar was awarded control over Muscovy, inconveniently located 5,000 miles away just outside Chicago. He now spends his time seething about this and writing about other stuff that bothers him.