(after) Burners On. Turbines to Speed!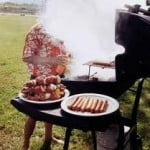 Brian Palmer in the NYT OpEd section pens an editorial today titled, "Fire Up the Grill, Not the Atmosphere". His lead off:
FOOD is responsible for 10 to 30 percent of global greenhouse gas emissions. By many estimates, cooking represents more of a meal's carbon footprint than transport. For certain vegetables, it accounts for more emissions than agriculture, transport and disposal combined.
That's interesting and I'd love to see his factual data source for that piece of data. I'll make the temporary assumption that a fair portion of this is attributed to the energy creation for the cooking as he alludes to later in his editorial. Mr. Palmer goes on to try to wreck my July 4th plans with the following choice clips:
a little creative thinking can reduce this year's Fourth of July carbon emissions without gustatory sacrifice. And maybe that awareness will carry into other days and other parts of our lives.
Consider potato salad: a pale mixture of boiled potatoes and mayonnaise that is sometimes appetizing but always wasteful. An overwhelming majority of the energy in boiling goes into heating the water rather than cooking the potatoes.
Direct-heat methods are more efficient and usually tastier. Cubed and pan-fried potatoes take just 10 minutes to cook and require less than one-third the energy of boiling. (According to my math, microwaving potatoes is about 40 percent more efficient than pan-frying them on an electric stove, but when I do it the potatoes come out rubbery, and that is too much sacrifice for a holiday.)
Mrs. GorT makes an awesome potato salad with dill and bacon (bacon that's been cooked – SHOCKER). I'm not passing on that. Nuking the taters just isn't quite right and while I like a good pan-roasted potato, the taste and potentially the texture is different.
Beef is an environmental disaster, no matter how you cook it.
Look, GorT eats relatively little red meat and when I do I prefer the healthier bison/buffalo meat. But throwing Bessie under the climate change bus is a little harsh.
Charcoal is made of wood, so the carbon it releases upon combustion is approximately equal to the carbon the tree it came from once removed from the atmosphere. In theory, charcoal should be less damaging than propane, which releases carbon that has been sequestered harmlessly underground for hundreds of millions of years.
It's far more complicated in practice, though. We get most lump charcoal from cutting down mesquite trees, and in addition to the deforestation effect, it takes more fuel to produce and transport charcoal than it does propane. As a result, according to a 2009 study in the journal Environmental Impact Assessment Review, propane is nearly three times as efficient as lump charcoal.
Charcoal briquettes, however, are a different story. The compressed round briquettes are made from scrap wood that would otherwise go to waste. The better manufacturers build their plants near construction centers and use recycled heat from those centers to power their briquette kilns. If you take that into account, charcoal briquettes are ahead of lump charcoal and propane as the best option in terms of climate change.
Sequestered naturally, but always with the potential to escape. Look back here – we bemoan all the "greenhouse gases" that we're releasing but the marine sediments hold factors and factors more than this…and it's natural. Mankind's contribution to it is miniscule.
The Gormogons are experienced and skilled with a variety of cooking methods – smoking, grilling, baking, roasting, frying, etc. And I think I can safely say that we all believe in being good stewards of the earth but if you drop on by the castle this weekend, I'm sure your tastebuds will crazy-go-nuts with the culinary offerings at hand. 'Puter will likely prepare a feast of epic proportions accompanied by a few Manhattans (no cherries, dammit). The Czar will likely drive a spit thru some carcass and throw it on the grill (maybe using propane, natural gas AND charcoal all at once) resulting in some tasty "Q". And to be sure, GorT will be smoking a variety of meat (with charcoal) for hours to get that tender, smoky, heavenly taste. I will say, a dutch over cobbler does sound good, so maybe I'll fire up another pit for that.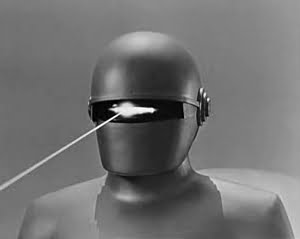 GorT is an eight-foot-tall robot from the 51ˢᵗ Century who routinely time-travels to steal expensive technology from the future and return it to the past for retroinvention. The profits from this pay all the Gormogons' bills, including subsidizing this website. Some of the products he has introduced from the future include oven mitts, the Guinness widget, Oxy-Clean, and Dr. Pepper. Due to his immense cybernetic brain, GorT is able to produce a post in 0.023 seconds and research it in even less time. Only 'Puter spends less time on research. GorT speaks entirely in zeros and ones, but occasionally throws in a ڭ to annoy the Volgi. He is a massive proponent of science, technology, and energy development, and enjoys nothing more than taking the Czar's more interesting scientific theories, going into the past, publishing them as his own, and then returning to take credit for them. He is the only Gormogon who is capable of doing math. Possessed of incredible strength, he understands the awesome responsibility that follows and only uses it to hurt people.