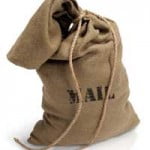 Your Czarness:
Sorry it's been so long since I've written, but all the preparations for the Royal Wedding here at the Trailer-Park-at-the-Edge-of-Town left me with precious little time. You gentlemen of the Castle have no idea how hard it is to choose a fetching hat to wear to such a big shindig. Unfortunately we've also had to keep an especially close eye on the weather here in the South. Even as I type, the Mississippi River is threatening to flood the Double-wide. But we are most grateful that we were spared last week's tornado destruction when so very many poor folk lost lives, homes, and livelihoods.
With the news of Bin Laden's long-scheduled meeting with American military might, it seemed appropriate to sit back and take the measure of the moment. As you doubtless know, in these parts "he needed killin'" is a perfectly respectable defense. So unlike Dr. J., the most "internal conflict" I can muster up is that I think we best pray that God forgives us for deliberately polluting the Arabian Sea in such a way. And while I await the outpouring of gratitude from all those nations who have suffered attacks inspired or directed by the newest resident of the bottom-of-the-Arabian-Sea, I won't be holding my breath.
What is curious to me, is how the mood of the country has split somewhat since the President's initial announcement. Now me and Bubba was watching the Phillies-Mets game, when those in attendance began chanting U-S-A. Nobody told 'em to do that (like you could force a Phillies fan to follow instructions anyway!). Spontaneous gatherings then popped up in DC, NYC, etc. and there was much rejoicing. Schadenfruede was quaffed. But just a couple of days later, we see serious thinkers using words in op-eds like "jingoistic" and "misguided" to describe those outpourings of emotion. It's as though they cannot bear the thought that the US military and the CIA, through patience, diligance and determination, made the world a much better place on Sunday. They hate, hate, hate to be beholden to the Seals and the CIA, but I think what makes it all the more difficult to bear is that those flag-wearing-waving crowds were mostly young people. They were celebrating, not the death of one foul man, but the success of our nation and pride in the valour of anonymous Navy Seals. Nothing an aging Baby-Boomer could hate more than seeing 20-somethings celebrating the US military rather than demonstrating against it.
You said it last week, Your Czarness:
As the Gen Xers began to clean up the mess, the depths of depravity became quite public.
Yours from The Doublewide,
JAB

Божію Поспѣшествующею Милостію Мы, Дима Грозный Императоръ и Самодержецъ Всероссiйскiй, цѣсарь Московскiй. The Czar was born in the steppes of Russia in 1267, and was cheated out of total control of all Russia upon the death of Boris Mikhailovich, who replaced Alexander Yaroslav Nevsky in 1263. However, in 1283, our Czar was passed over due to a clerical error and the rule of all Russia went to his second cousin Daniil (Даниил Александрович), whom Czar still resents. As a half-hearted apology, the Czar was awarded control over Muscovy, inconveniently located 5,000 miles away just outside Chicago. He now spends his time seething about this and writing about other stuff that bothers him.