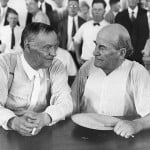 Your Mandarin is once again flabbergasted by the inability of people to understand what science can and cannot do as evidenced by the manslaughter charge leveled against a group of seismologists by Italian government officials.
This criminal charge against Italy's top seismologist and his team stems from their apparent inability to predict the 2009 earthquake in L'Aquila that killed 308 people.
Now your Mandarin has to ask the obvious question, why is the Italian government going after these seismologists? Is it an attempt to divert blame and focus away from inadequate disaster response? Your Mandarin does not have an answer, but why go after real scientists who have never made the claim that they can predict when or if an earthquake will occur?
Would the Italian government rather have these seismologist constantly telling people that an earthquake is about to occur just to cover themselves and have the population in a constant state of panic? At what point – think back to the constant elevated terror alert we were on in this country for 8-years – do people begin to tune out the constant warnings because the "big one" hasn't happened?
Your Mandarin also finds it ironic that these same Italian officials haven't leveled criminal charges against the pseudo-scientific community that is constantly bemoaning man's impact on the climate. But then again, that pseudo-science has provided an actual benefit to the progressive/socialist government in the form of taxes and fees.
Your Mandarin surmises that the socialist/progressives haven't figured out a way yet to show how you have caused these quakes by the very act of walking and a way to tax how many steps you take. Maybe they can imbed sensors in your shoes that would show how hard your foot impacted the ground and then tax you accordingly for your impact on the environment.

The Mandarin, whose real name is 吏恆, joined the order in 1309, and introduced the Gormogons into England during the 18th Century.
The Mandarin enjoys spending time with his pet manticore, Βάρἰκος, or Barry (who can be found in the Bestiary). When not in the Castle…well, frankly, nobody is quite sure where he goes.
The Mandarin popularized the fine art of "gut booting," by which he delivers a powerful kick to the stomach of anyone that annoys him. Although nearly universal today, the act of gut booting or threatening someone or something with a gut boot is solely due to him.