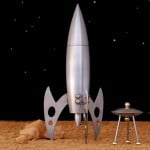 "You know," the Czar said to his foreign policy advisor as we pushed two shells into the shotgun, "Polls are funny things, Vanya." We yelled pull, and Ivan Zborikov held two orange plates out at arm's length, one in each hand. The Czar pulled one trigger, shattering the left plate, and swung over and pulled the second trigger, demolishing the other plate dead center. This was easy to do, of course, because the Czar was standing mere feet away from Zborikov, only because the Czar is a terrible shot with a scattergun.
The Czar did not conclude his point because Zborikov's hearing was not likely to return for some time since we did this indoors. But the Czar will explain his point to you in detail.
The President, it appears, received considerable praise and adulation for his well-executed (heh!) operation, according to recent likely voter polling. And indeed, he saw a bump up in the polls.
But uh-oh, his polls slid back down because of continual bad news about jobs, gas, spending, and his ridiculous speech about immigration (about which many liberal pundits agree was a disaster for him). The latter speech was intended to win over Hispanic voters; however, it appears to have gained him no significant popularity there because the entire demographic knows he is a fake. All the President did was make childish partisan comments against the GOP to gain quick laughs and brief applause, and reiterate a litany of ineffective or already defeated legislative measures. In other words, nothing new.
Of greater interest is the polling that showed good support percentages for the Bin-Lâdin takedown. Turns out the thumbs up came from likely Republican voters. In other words, the move was very popular among people not going to vote for him. When likely Democratic voters are isolated from the polling, his numbers are no higher than they were before—curiously suggesting that Democratic voters have no particular support for killing Bin-Lâdin.
Meanwhile, we see Donald Trump has hit rock-bottom in some later polls. Yeah, the fun is over. This is probably due to Trump's rambling, vulgar nonsense in Las Vegas, as well as the GOP debate that showed a little bit more respectability than he was used to. Voters are starting to take a reality pill on what they need in a candidate.
As it stands, the state of the union requires a strong Republican candidate who will address the fiscal crisis as well as cope with severe foreign policy problems, in addition to resolving lingering (but possibly easy-to-fix) economic worries. Gotta have it, because these are disasters headed our way for sure.
But to beat President Obama in an election? This is now starting to rank about six or seventh on the list of concerns.

Божію Поспѣшествующею Милостію Мы, Дима Грозный Императоръ и Самодержецъ Всероссiйскiй, цѣсарь Московскiй. The Czar was born in the steppes of Russia in 1267, and was cheated out of total control of all Russia upon the death of Boris Mikhailovich, who replaced Alexander Yaroslav Nevsky in 1263. However, in 1283, our Czar was passed over due to a clerical error and the rule of all Russia went to his second cousin Daniil (Даниил Александрович), whom Czar still resents. As a half-hearted apology, the Czar was awarded control over Muscovy, inconveniently located 5,000 miles away just outside Chicago. He now spends his time seething about this and writing about other stuff that bothers him.