The Proof Is In The Weeds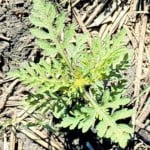 An astonishing number of people reject evolution. This rejection is always of interest to the Czar, because there is (a) a widespread perception that evolution lacks clear evidence despite (b) a tremendous amount of it. Many in the scientific community simply sweep away the non-believers with accusations of ignorance born out of religious fundamentalism; however, while convenient, the majority of people who cannot accept evolution may well be informed, intelligent, and broadly read individuals. The problem is not necessarily their inability to understand; frankly, a huge amount of the evidence is incredibly arcane, technical, and frankly boring. Too much of it is simply unrelatable: somebody digs up a pea-sized chunk of bone fragment and now we discover what, exactly, that a parrot is a hadrosaur?
As a result, the Czar likes to find clear and easy-to-grasp examples. You already know that illnesses are getting worse because bacteria are evolving faster than our antibiotics can compensate. And that fish in the Atlantic are becoming smaller because natural selection favors those fish that can swim out of fishing nets and reproduce. Anti-evolutionists ignore these examples, and would rather point to long-disproved issues about "irreducible complexity," "fossil gaps," and nonsense about messages from God hidden in our DNA molecular chains.
Here is another example. Scientific American mentioned that glysophate is becoming demonstrably ineffective at weed control. The Czar immediately knew what that means.
Glysophate is a substance found in the commercial herbicide RoundUp. You use this, don't you? The Czar discovered it in 2000, and loves it. RoundUp is the nuclear option for weeds. If you have a bad patch of crab crass, a huge thicket of weeds growing in a back corner of your lot, or impossible-to-mow grass growing over the base of a tree, pull out the RoundUp. Within 24 hours, the crab grass is yellow and dead, the weeds have shriveled, and you no longer have grass to mow around the tree. It kills anything plant-like in the area.
No more pulling weeds out by hand. By the way, if you use it to kill weeds on your lawn, it kills the grass around it, too. If you use it to nuke some crabgrass in the area, you will need to plant new grass seed. It is that powerful.
How does it work? Glysophate salt inside the RoundUp prevents plants and some bacteria from producing an essential amino acid called EPSP synthase. EPSP synthase is found in animals outside the microscopic world, and helps plants produce essential other essential acids like phenylaline, tyrosine, and so on. Glysophate is sucked into the plant, and the plant stops growing. Its cells fall apart. Within a day, the plant begins to shrivel. Within a week, it is dead and collapsed.
The safety of RoundUp is the subject of considerable argumentation. Officially, glysophate has no harmful effects on animals because we do not rely on EPSP synthase. Environmentalists, by and large, hate RoundUp and link to numerous studies of it causing widespread death and destruction all over the place. While its manufacturer, Monsanto, got dinged for billing it as virtually safe to drink, the Czar recommends you treat it like any herbicide: keep pets off it, and wash your hands after use.
So RoundUp can kill all plants. You could, given enough RoundUp, spray it on a full grown tree and kill it. Since it works at an amino acid level—an amino acid common to all plants—RoundUp is unstoppable.
Or so you would think. Because many common weeds have evolved a tolerance to it. Actually, more than a few: since RoundUp's introduction to the market in 1983, about 103 weed species are now immune to RoundUp, and about one more is added each year.
Think about that. A plant at its molecular level can now resist an attack on its fundamental biochemistry. As mammals, we are primed to think reflexively that plants are smart and found a way to cope with the threat, the way mammals adapt.
But this is not the case: weeds are dumb. What actually happens is that RoundUp kills 99.9999% of the weeds and any of their seeds in the area. But 0.0001% survive, by luck or a quirk of physiology. Those weeds grow, and get hit with more RoundUp. But 0.001% of these survive: the original lucky ones are caught on the second does, leaving only the quirky ones. They grow up and produce more seeds…and these seeds are far more able to resist glysophate. Eventually, the survivors of the survivors of the original weeds are pretty tough. And within a few years of continual generations, you have the so-called SuperWeeds remaining, and no amount of RoundUp will kill them. The weeds go on to choke crops and produce.
This all makes sense, and in point of fact is precisely how natural selection works. The kids of the survivors are a little bit tougher. And natural selection is a key part of evolution. The weeds, in our lifetime, are evolving.
And there are farmers all over the United States who appreciate, for better or worse, that evolution is real. And sometimes, it hurts you in the wallet.

Божію Поспѣшествующею Милостію Мы, Дима Грозный Императоръ и Самодержецъ Всероссiйскiй, цѣсарь Московскiй. The Czar was born in the steppes of Russia in 1267, and was cheated out of total control of all Russia upon the death of Boris Mikhailovich, who replaced Alexander Yaroslav Nevsky in 1263. However, in 1283, our Czar was passed over due to a clerical error and the rule of all Russia went to his second cousin Daniil (Даниил Александрович), whom Czar still resents. As a half-hearted apology, the Czar was awarded control over Muscovy, inconveniently located 5,000 miles away just outside Chicago. He now spends his time seething about this and writing about other stuff that bothers him.