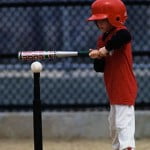 So the Czar found himself coaching a tee-ball game today.
Due to a variety of scheduling conflicts, only a single assistant coach showed up. So the Czar, dropping off the Царевич (who won the game ball for some outstanding defensive work, as well as a Fabergé egg from the Czar), realized we were about, oh, three coaches short.
And lo, verily did the Czar straddle the field with his wondrous girth, initially coaching first base because, frankly, with tee ball, it's the easiest thing to coach. You only need to know two words: "Run!" and 'Stop!" Later, the Czar moved to short center and began to coach defense, whereupon the other coach and we engaged in conversations like this:
Czar: Hey, we're short a center fielder. Do you want to pull the pitcher back about six feet to stop stuff going up the middle?

Coach B: Uh, I dunno. Think that could work? Hell, whatever. Pitcher! Back up!
The Czar was also rewarded with listening to Coach B's instructions in the dugout, which sounded every bit like this:
"Hey! You gotta bat with a helmet on!"
"Next time, Joey, throw to first, okay? That's the parking lot, that's first base."
"No, it was a great throw. I didn't think anybody here could hit the Porta-John from third base. But I think you really scared the grandma who was in there."
"Then don't sit next to him."
"Glove on the hand, not on the head."
"I don't know what the snacks are; why not worry about that after the game?"
"That isn't your hat, Vinnie."
"No, you can't bat again. This is the line up, and you already batted. You come after Tommy. No, after Tommy. Then forget it; you can sit out the game."
The Czar realized that there is probably very little difference between coaching tee ball and actually managing a major league team.

Божію Поспѣшествующею Милостію Мы, Дима Грозный Императоръ и Самодержецъ Всероссiйскiй, цѣсарь Московскiй. The Czar was born in the steppes of Russia in 1267, and was cheated out of total control of all Russia upon the death of Boris Mikhailovich, who replaced Alexander Yaroslav Nevsky in 1263. However, in 1283, our Czar was passed over due to a clerical error and the rule of all Russia went to his second cousin Daniil (Даниил Александрович), whom Czar still resents. As a half-hearted apology, the Czar was awarded control over Muscovy, inconveniently located 5,000 miles away just outside Chicago. He now spends his time seething about this and writing about other stuff that bothers him.