Pakistan, Explained (Sort Of)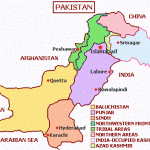 Gotta love a letter that opens like this:
Dear Dread and Wonderful Czar,

From what you wrote about Pakistan in Bit 3 of your "Four Little Tidbits" post, it sounds like Pakistan could be described as the Yugoslavia of the Subcontinent. Or perhaps something akin to Somalia (and dare I say, much of Africa), with a sort of feudalism, local warlords playing the Earls and Dukes?

As ever,
@AgStateSense
The Yugoslavia analogy is perhaps closest, in that Yugoslavia was an artificial creation—its very name means "Southern Slavs"and was a Western European solution to dealing with the Serbs, Croats, Macedonians, Slovenians, Bosnians, Hercogovinians, Kosovars, Montenegrans, Dalmatians, and maybe a couple others that escape our memory. Basically, the country's name implied "Miscellaneous." The country was a political expendiency, figured out at Versailles, irrespective of cultures, languages, religions, customs, and traditions. Frankly, it always struck the Czar as total bigotry: eh, they're all just crazy Slavs. Lump them together in the South and call it Jugoslavia or something. Next issue, please.
Of course, Iraq was formed in much the same manner at the end of the Ottoman Empire (the Czar will let the Volgi field this one, should he choose to show up to work today). Basically, the Kurds, Turkmeni, Azeri, and Arab populations were viewed indiscriminately, and woke up one morning to find they were all lumped together as Iraq by the Sykes-Picot agreement of 1916.
Pakistan's story takes place later, and we have mentioned it before. Even more to the point, its name is an acronym for Punjab, Afghani, Kashmir, Sind, and Balochistan, and although paki (پاکِ) means "pure" in Urdu, there is little pure about it, demographically.
Pakistan is composed largely of Punjabis; however, their language is not Urdu but Punjabi. Punjabis are a fiercely tribal-oriented group who have distinct houses such as the Rajput, Rahmani, Niazi, and Mughals. The politics between them is ever-changing and sometimes volatile. Punjabis
To the deep south of Pakistan are the Sindhi people, who are a complex mix of many cultures fused into a rich and layered new one. Sindhis are very active in government and popular culture, but maintain ancient tribal organization (sometimes as strong as others, other times much less formal).
Moving northward, we find the Saraiki people. This group follows a variety of religions (Muslim, Christian, Hinduism and Sikhism for the most part). They loosely follow the customs and traditions of the Punjabis, but technically follow their own internal hierarchies separate from the Punjabis.
To the West are the Baloch people, of Iranian origin. They too maintain their tribal identities, and are quite opposed to the spread of Islamic extremism, which they view as a threat to their unique culture. Understandably, other Paki cultures view them with a variety of stereotypes, ranging from stubborn to blasphemous to rednecks.
Pashtuns live to the far North, and are found well into Afghanistan. They are an ancient people who strongly adhere to warrior ethics and codes; frankly, many other Pakistanis view them (and we quote an actual Paki here) as a backward, "dirty" people. The Czar disagrees, but repeats this stereotype to highlight the disdain Paki cultures frequently have for one another. Apologies to our Pashtun readers.
Originally, Bangladesh, on the far side of India was part of Pakistan as well, until they declared independence in 1971. You can imagine how poorly they fit in.
Even so, you might think these differentiated cultures with all their tribes and cliques are a source of trouble. But it gets more complex: there are a few dozen languages spoken in Pakistan. The national language, Urdu, is ultimately the language of the Muhajir, or immigrant Indian culture. And there are numerous sub-minorities. One could spend a lot of time merely looking down the list of names of the various cultural identities. (Wikipedia lists hundreds.)
So you can imagine that while the West tends to view Pakistan as a unified culture with some charming regional eccentricities, we see this is as wrong an approach as viewing Yugoslavia or Iraq as a single group. Within the latter two, we see ancient linguistic, religious, and cultural differences creating terrible tensions that resulted in the death of millions of people. In Pakistan, you have scores of multiples of ancient tribal cultures, traditionally hostile toward each other. Back in 2002 when we first suspected al-Qâ'ida operatives were fleeing into Pakistan, American military experts were warning the press that these guys were hiding in areas effectively out of Pakistani military jurisdictional control.
So is it really any wonder that the ISI, founded by a Pashtun and run for decades by tribe-first, country-second Pashtuns, might sometimes be sympathetic to Afghani terrorists, and that a largely Sindhi and Punjabi civil government are unable to determine what the hell is going on in the ISI? Not to you, it isn't.

Божію Поспѣшествующею Милостію Мы, Дима Грозный Императоръ и Самодержецъ Всероссiйскiй, цѣсарь Московскiй. The Czar was born in the steppes of Russia in 1267, and was cheated out of total control of all Russia upon the death of Boris Mikhailovich, who replaced Alexander Yaroslav Nevsky in 1263. However, in 1283, our Czar was passed over due to a clerical error and the rule of all Russia went to his second cousin Daniil (Даниил Александрович), whom Czar still resents. As a half-hearted apology, the Czar was awarded control over Muscovy, inconveniently located 5,000 miles away just outside Chicago. He now spends his time seething about this and writing about other stuff that bothers him.