The Oppressive Corporate Tax Rate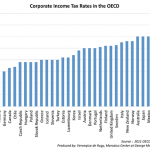 The next time some weenus says that maintaining obscene corporate profits are why our jobs are moving overseas, point them to this picture:
Here is why jobs are going overseas: the corporate income tax rate.
Ask them which businesses pay the tax rate. Surprise them by pointing to the local bakery, the grocery store, their coffee shop, the diner where they had lunch, and the mechanic who rotated their tires last month. Yep—these guys all pay a massive 35% tax on their revenues.
Now ask them to which countries they believe the jobs are fleeing, and ask them to find those countries on this chart.
India? India is a high 33% corporate tax rate, but the cost of labor is so low that it offsets. The same is true for Indonesia. If you want cheaper labor in America, feel free to suggest this to any union leader nearby.
Mexico? Pfft—guess again. Although Mexican corporate tax rates are lower than ours, most of the jobs left Mexico long ago. Which is why we have a problem in the Southwest.
Ireland? The corporate tax rate is a tiny 12.5%, which is why so many services and manufacturing companies went there.
The only countries that share America's tax rate (and would you want your company located there?): Angola, Argentina, Benin, Burundi, Gabon, Guyana, Malta, Pakistan, and Zambia. Feel free to point to any of these that appears to be an economic superpower.
Where should we be? Most people smarter than the Czar seem to think between 20-25% would be great—with the emphasis tilting toward the 20% mark. With affordable taxes, prices on goods come down. Companies stay here in America, which means employment opportunities go up. More people working mean more collected tax revenue without raising taxes. More people working with lower prices mean more purchasing, which results in the return of manufacturing jobs and services. Inflation starts to come down.
You can see why some economists believe that bringing the corporate tax rate down here in America may be goal #1 in fixing the economy. We are inclined to agree.

Божію Поспѣшествующею Милостію Мы, Дима Грозный Императоръ и Самодержецъ Всероссiйскiй, цѣсарь Московскiй. The Czar was born in the steppes of Russia in 1267, and was cheated out of total control of all Russia upon the death of Boris Mikhailovich, who replaced Alexander Yaroslav Nevsky in 1263. However, in 1283, our Czar was passed over due to a clerical error and the rule of all Russia went to his second cousin Daniil (Даниил Александрович), whom Czar still resents. As a half-hearted apology, the Czar was awarded control over Muscovy, inconveniently located 5,000 miles away just outside Chicago. He now spends his time seething about this and writing about other stuff that bothers him.