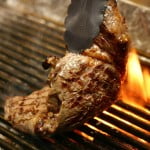 Ordinarily, on a holiday like Memorial Day, you get a lecture about how good you have it, and how you should be remembering all those lost lives rather than going out and partying.
Not this year, though. Instead, with this weekend being the unofficial kickoff to American summer, the Czar is going to give you something worth remembering.
The Czar, truth be told, fancies himself as a bit of a grilling wizard. In fact, the Czar would grill every day if he had the time, or at least every weekend if the weather permitted. The Czar has done pretty much every meat there is on the grille, along with uncountable vegetables, and yes: he does fruits, breads, and even salads on the grille. The Czar is at home with gas and charcoal grilles, and enjoys the times that he has both going at once.
And so today, the Czar will impart a few basic tips that will make any of you a much better griller. If you are doing these already, nice job. If you are doing some, great; but these really are the mandatory ones you should always work toward doing.
First, clean your damn grille. You know how the grille rack is encrusted with a quarter-inch of black grime? You need to get rid of that, fast. Take the rack off, soak it in hot water with lots of dish detergent, and get rid of that much. Someone once told you that it adds flavor, or helps cook the meat, or something. Nonsense: all it does is put bitter, acrid dirt on the meat. It certainly is not good for you, and makes your hard work look like you dropped it on the ground while bringing it in. Scrub it all off.
Once the grille rack is thoroughly clean and washed, you are good to go for a while if you follow the rest of these directions.
Second, oil that puppy. Spray on some Pam or other non-stick spray, or use the oil of your choice to brush onto the rack. This prevents meat from sticking to the rack, and helps keep it cleaner, longer. Some grillers do this every time they grille; the Czar does it only when meats show evidence that they would like to stick to the rack. However you elect to do it, do it. You will see a difference.
Charcoal grillers: stop with cheap charcoal and lighter fluid. Instead, use real charcoal chunks, and light it with newspaper, clean twigs and sticks (take off the leaves, and do not use green wood) from your yard, and the like. Light the paper in a couple corners, let it start the kindling, and let that start the charcoal. Once you taste food cooked without a quart of lighter fluid as a starter, you will never go back. Also, for an added treat, if you have any old firewood left over, split it up into chunks. Soak it in a bucket of water for an hour. When your coals get lit, carefully distribute the dripping wet wood into the coals. You will get glorious smoke that will double the flavor of your food.
Charcoal grillers: another tip for you. When your coals are all burning, push them to one side. This concentrates the heat on one side of the grille for real hot cooking. Put your meats and foods in the middle, so that they cook evenly, or even push them to the far, cool side to slow down cooking if the food starts to dry out. The one thing you no longer want to do is have an evenly spread coal bed with your food cooking inches above it. You cannot control the heat that way, and all you do is burn the outside and leave the inside raw. Indirect is the way to go, everybody: evenly cooked food throughout.
Gas grillers: preheat. Light all your burners, close the lid, and walk away for a few minutes. When the grille hits about 400°, turn off all but a couple burners. Preheating dramatically reduces your cooking time. The Czar likes to cook on the two middle burners: this allows the Czar to do indirect cooking on a gas grille. This is how you can do breads and salads without setting them on fire: put them over a non-lit burner, and the heat from the sides will cook the stuff quickly without burning it.
Ready for the most important tip? This one is very important, and the number one error the Czar sees people screw up. Put your food on the grille, close the lid, and leave it the f— alone. Every time you lift the lid to check on the food, even for a quick second or two, you add about five minutes to the cooking time. For thin foods, check it after 3-4 minutes. No sooner. For thick steaks, 5-10 minutes. For larger foods like turkeys, even longer. Avoid lifting the lid until you have to. This is the most important thing.
Actually, you should get to the point where you lift the lid only four times: once, to rotate the foods 90°, once to flip, once to rotate 90° a second time, and one last time to monitor for final done-ness (you can leave the lid up at this point). Anything more, and you are simply wasting fuel and time.
Grill marks are essential for perfect cooking! Here is how to get those beautiful grill marks. Well, we already told you: rotate the food! If you food is square or circular, it almost does not matter how you position the food; if your food is rectangular, place them at 45° angles on the rack. As the sides start to turn color, carefully rotate the food 90°. This puts the "#" on the bottom. When juices start to pool at the top of the food, flip it over and quickly angle it again. Rotating once more will put fantastic grille marks on each sides, criss-crossing neatly.
Your food is done? Transfer the food to a serving plate and leave it the f— alone for five minutes. The Czar gets into arguments all the time about this, but letting food "set" is very important. Sure, for fatty steaks, burgers, and sausages, this might not be that essential. But for flank steaks, pork chops, chicken, lamb, etc., that gets tough and chewy, let the food set. What happens is that as the food cools slightly, steam inside coalesces back into juice. This turns tough chewy meat back into succulent, flavorful joy. Cutting the meat before it sets, on the other hand, lets the steam (and your juice) escape. Let it set.
Besides, you have one last thing to do before cutting the food and eating it, and that is our last tip: get back out there and while the grille is still searing hot, clean it with a wire brush. Right at this point, the fat, drippings, goo, and grease are very weak and loose. Scraping now is easy, quick, and cleans your rack before it hardens into that black concrete again. Do this, and your grille will need cleaning only once or twice a year even with heavy use. By the time you finish scraping and brushing the hot racks, you can go carve that meat.
All right, but what to cook? As a treat to our most loyal readers, we present Gormogon pork chops. The Volgi concocted this recipe from centuries of dark sorcery. The Czar will add some thoughts. Your Volgi:
Whisk together 2 Tablespoons of maple syrup, 2 Tablespoons of Dijon mustard, and 1 Tablespoon of steak sauce.

Put the chops out at room temperature for 20–30 minutes in advance of grilling. Lightly brush or spray the chops with vegetable oil, then brush on the above glaze and, if you want, season with kosher or sea salt and freshly ground black pepper.

Grill the chops over direct medium heat (in a closed grill) 10-12 minutes (rotate after 3 minutes, flip at 6 minutes, rotate again at 9 minutes, and by 12 minutes the juices should be running clear. Let the meat rest five minutes or so and then serve.
These are pretty much no fail, and work even if you forgot to marinate anything. The Czar has discovered this works mind-blowingly well for pork steaks, if you can get them. Don't like or don't eat pork? No problem: substitute with chicken or turkey breasts.
So if your weather permits, get out there: clean that grille, oil it up, light and heat it correctly, and get these bad boys cooking for you. Keep the cover closed, put on them grill marks, let the meat set, and clean the grille before it cools. And don't say we didn't warn you that your results will immediately show.

Божію Поспѣшествующею Милостію Мы, Дима Грозный Императоръ и Самодержецъ Всероссiйскiй, цѣсарь Московскiй. The Czar was born in the steppes of Russia in 1267, and was cheated out of total control of all Russia upon the death of Boris Mikhailovich, who replaced Alexander Yaroslav Nevsky in 1263. However, in 1283, our Czar was passed over due to a clerical error and the rule of all Russia went to his second cousin Daniil (Даниил Александрович), whom Czar still resents. As a half-hearted apology, the Czar was awarded control over Muscovy, inconveniently located 5,000 miles away just outside Chicago. He now spends his time seething about this and writing about other stuff that bothers him.