Mail: In Which We Can Cross-Link Like Crazy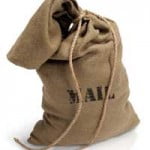 Fake Herzog does what more of you should do, and write in:
'Puter hit the ball out of the park (was it perhaps a tee ball?) today with his post on E.J. Dionne and the Catholic Church's position on economics versus abortion. Out. Of. The. Park. However, something he forgot to mention that is even more supportive of his argument than Father Sirico's excellent thoughts on the kerfuffle concerning Catholic University and Speaker Boehner, is the letter from the USCCB on the Republican budget.
Concerning your last mailbag, please pass this note onto the good Dr. J. –


Do not confuse illicit with elicit. Illicit means ' not allowed by law or rules ' (illicit drugs), whereas elicit means ' draw out a reply or reaction ' (I tried to elicit a smile from Joe).

– from the Oxford Dictionaries website

Finally, whenever the subject of Rush's song "The Trees" comes up, I am forced to mention the early Vonnegut short story "Harrison Bergeron" (which captures the theme of the song just as well as Orwell or Twain.) I know that Vonnegut was a crazy lefty at the end of his life, but some of his stuff (particularly the science fiction) is quite good.

As always, to all the Gormogons, keep up the good work!
Thanks, Know-It-All! You know, if we started editing properly around here, and fixing grammatical whoopsies, you might not like 'Puter's posts all that much.
Also, it is critical to remember that most of our errors, including the good doctor's, by the way, are intentional. You spotted one, so we will throw that out to the crowd. Keep track of them, because at the end of the year, they will spell out a special message from us to all of you!
Now we'll all go over to I'm Not Herzog and see how your work looks. But on the other hand, your note was some of the highest praise our dear Ghettoputer has ever received. Thanks, buddy!

Божію Поспѣшествующею Милостію Мы, Дима Грозный Императоръ и Самодержецъ Всероссiйскiй, цѣсарь Московскiй. The Czar was born in the steppes of Russia in 1267, and was cheated out of total control of all Russia upon the death of Boris Mikhailovich, who replaced Alexander Yaroslav Nevsky in 1263. However, in 1283, our Czar was passed over due to a clerical error and the rule of all Russia went to his second cousin Daniil (Даниил Александрович), whom Czar still resents. As a half-hearted apology, the Czar was awarded control over Muscovy, inconveniently located 5,000 miles away just outside Chicago. He now spends his time seething about this and writing about other stuff that bothers him.