Fanmail: Some Days It Gets Really Weird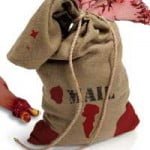 First some thoughts on Thor from BG:
Great and Terrible Czar –

Our neutered female cat likes to hang around my wife while she's getting dressed. Is Thor an appropriate movie for cats that like to watch naked women?

Is Thor an appropriate movie for men who like to watch naked women?

Is Thor an appropriate movie for men who like to watch cats watching naked women?

Do you have any naked women chained up at Castle Gormogon? Or do you just kinda let them, you know, roam free and all?

No, no special reason, just curious.
You seem to be quite, um, obsessed with—dare we say it—well, frankly, you seem to be obsessed with cats. That could be a Freudian thing. Dunno. Hated Freud. Met him twice, once at a party. He was a real pain in the dink. The Czar wound up pushing him into a dessert table; trust me when we say that a German psychiatrist from that era cannot fight. The second time was at a police station, a week later.
Oh, and this from Dr. J, not that it's any better:
Dear The Czar,

Dr. J. and the lil med student saw Thor this weekend. Grandpa was astounded with the lil med student's vast knowledge regarding Marvel's interpretation of Norse mythology including wondering (far too out loud for a movie theatre in a good neighborhood) why in Niflheim Odin had two eyes in his first appearance in the film and screaming, 'Daddy, that's Hawkeye!' when the unnamed 'eye in the sky' sniper grabbed a bow instead of a gun.

Dr. J. and the lil med student both gave it two thumbs up as the best of the Avenger prologues to this point, including Iron Man. Dr. J. enjoyed the Shakespearean overtones that J. Michael Strazinski's (Babylon 5) screenplan and Branagh's direction brought to the film. It was structured very much in the manner of a Shakespearean history, rather than a comedy or a tragedy. The lil med student loved watching Frost Giants' heads shatter when smashed by Mjolnir.

That being said, the lil med student's favorite part of the movie remains the Green Lantern trailer ('Daddy, Tomar-re is in it!

Dr. J. has a question for the all knowing and all seeing Czar, and it's a simple one. Sif, or Jane Foster? Dr. J would have to go with Sif on that one, but he respects dissenting opinions.

Best,
Dr. J.
Jeez, it's a freaking movie. Obviously D&D Club wrapped up early, and they all wandered in here to geek the place up. Yeahhhh. The Czar ain't going to get into which fictional character is hotter.
Okay, the Czar will agree openly on one point: Branagh did a smart job of directing the movie, but not as Shakespearean, really, as Miltonian. Did you know the Czar once met John Milton? Poor guy couldn't see, but evidently he thought he was deaf, too. All he did was holler and shout. He was, incidentally, planning a sequel with a whole bunch of expanded universe things. He dictated about three-quarters of it before he died, but his daughters would always leave the room about ten seconds in and never wrote a bit of it down. He just thought they did, and they would hand him blank sheets of paper to fool him. Sad, really.

Божію Поспѣшествующею Милостію Мы, Дима Грозный Императоръ и Самодержецъ Всероссiйскiй, цѣсарь Московскiй. The Czar was born in the steppes of Russia in 1267, and was cheated out of total control of all Russia upon the death of Boris Mikhailovich, who replaced Alexander Yaroslav Nevsky in 1263. However, in 1283, our Czar was passed over due to a clerical error and the rule of all Russia went to his second cousin Daniil (Даниил Александрович), whom Czar still resents. As a half-hearted apology, the Czar was awarded control over Muscovy, inconveniently located 5,000 miles away just outside Chicago. He now spends his time seething about this and writing about other stuff that bothers him.