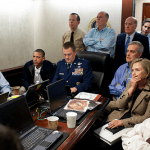 Dr. J wrote in with the following and part of it struck a chord with me that I'll expand on below:
Your Timelessness:

Dr. J. woke up this morning to the news that Usama bin Laden was killed in a raid on a compound in a tony suburban Islamabad neighborhood through the heroic efforts of our Navy Seals and intelligence community. Dr. J. will even give kudos to President Obama for having the C.O. Jones' to give the order to take action.

Dr. J.'s initial reaction was a sense of relief that this despicable human being will not be able to endanger innocent lives around the world, but it was combined with a knot in his gut that was multifactorial in etiology:

The footage Dr. J. saw from President Obama's speech was a little too self congratulatory. Malignant narcissism was how Steven Hunter described it.
While Dr. J. was not surprised that UBL was not taken alive, he was disturbed by the mixed messages from the White House about the efforts, or lack thereof to take him alive. Given President Obama's love of the predator drone, and the number of exploding heads that occurred during a merchant captain's rescue from Somali pirates a few years ago, Dr. J. is bothered by President Obama's cold-hearted disregard for human life. I have the feeling he's given more 'kill orders' against individual targets and Bush ever did. Both Saddam Hussein and Khalid Sheik Mohammed were captured, not killed on sight. Dr. J. found it easier to be happier about those captures than the death of UBL. Dennis Miller tweeted, "Barack Obama is a killing machine."
While Dr. J. was hearing the news, he was seeing images of jubilation and celebration over a man's death. The last time he saw this, it was footage of Muslim extremists celebrating the death of some American, or an Israeli, or such. The only difference between our celebrants and theirs was that in addition to some chants of, "We got him," and, "He's dead," there were numerous patriotic chants of "USA, USA," etc…perhaps that wasn't too far from "Allah Akbar." At least Dr. J. did not see folks throwing shoes at pictures of UBL, or burning effigies or flags.
The VERY lovely Mrs. Dr. J. made some observations about the news. She observed that there were A LOT of young people, especially young men in the streets celebrating. She agreed that the some of images could have been from Palestine or elsewhere, were they not waiving US flags. She also observed that the death of UBL does not equate with the death of Al Qaida, and that perhaps this was more of a 'Mission Accomplished' moment.*
Dr. J.'s reaction can be summed up in the reaction of the Vatican: "Osama Bin Laden, as is known, claimed responsibility for grave acts that spread division and hate among the peoples, manipulating religion to that end. A Christian never takes pleasure from the fact of a man's death, but sees it as an opportunity to reflect on each person's responsibility, before God and humanity, and to hope and commit oneself to seeing that no event become another occasion to disseminate hate but rather to foster peace."
There was a dash of schadenfreude sprinkled in given the irony of the situation given all the things the left railed against President Bush for…

Dr. J. takes solace in the fact that this weekend there were two greater reasons to celebrate. First, the Royal Wedding of Prince William and Catherine Middleton. This was a celebration that was an affirmation of life watched by perhaps up to 2 billion individuals world wide. Dr. J. wishes the young couple a long and happy future together. Also, the beatification of Pope John Paul II. Blessed John Paul II was a truly holy man who believed in freedom and the sanctity of life. He energized the youth of the Catholic Church (Gen X Catholics, anyway), and alongside Thatcher and Reagan stood up against the scourge of communism and helped to end the Cold War.

While these views may be controversial, they are submitted respectfully to the Gormogons and their audience.

Warmest Regards,

Dr. J.
Good stuff as usual from the Royal Surgeon.
* – persons known to GorT have started pimping the image on the right. Look, like the other Gormogons, I give President Obama credit for being decisive, even in the face of what was likely a hard decision with some incomplete intelligence. However, let's be clear on a few things: First, this mission is far from over and this act might embolden other wanna-be bin Ladens — keep your eye out for Anwar al-Awlaki (أنور العولقي) maybe even more so than Khalid Sheikh Mohammaed (خالد شيخ محمد). Second, this is likely to be a faux pas by the liberals. The "mission accomplished" phrase has long been a rail against President Bush and his efforts in Iraq. So if you buy into the belief that the "mission accomplished" banner was touting a good job in Iraq and later it proves that the insurgency was significant leading to more American lives lost, then consider the parallel here. If, however, you believe that it was an unfortunate event where the Navy was celebrating the return from the record-setting 10 month long deployment of the U.S.S. Abraham Lincoln and you listen to the actual speech President Bush gave on the occasion including quotes like, "We have difficult work to do in Iraq. We are bringing order to parts of that country that remain dangerous" and "Our mission continues…The War on Terror continues, yet it is not endless. We do not know the day of final victory, but we have seen the turning of the tide" then maybe it is apropos that we should use this motto here to celebrate the end of the mission to get UBL.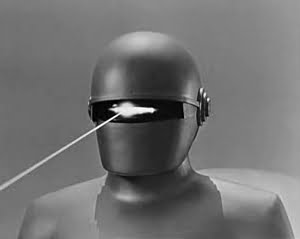 GorT is an eight-foot-tall robot from the 51ˢᵗ Century who routinely time-travels to steal expensive technology from the future and return it to the past for retroinvention. The profits from this pay all the Gormogons' bills, including subsidizing this website. Some of the products he has introduced from the future include oven mitts, the Guinness widget, Oxy-Clean, and Dr. Pepper. Due to his immense cybernetic brain, GorT is able to produce a post in 0.023 seconds and research it in even less time. Only 'Puter spends less time on research. GorT speaks entirely in zeros and ones, but occasionally throws in a ڭ to annoy the Volgi. He is a massive proponent of science, technology, and energy development, and enjoys nothing more than taking the Czar's more interesting scientific theories, going into the past, publishing them as his own, and then returning to take credit for them. He is the only Gormogon who is capable of doing math. Possessed of incredible strength, he understands the awesome responsibility that follows and only uses it to hurt people.