Who Is Smarter? Who Is Smartest?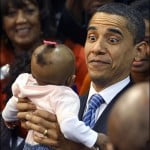 An editorial in The Washington Examiner is slow enough to discover that President Obama is "not as nice as he looks." No kidding. What caught the editors's slow attention was the way Obama invited Paul Ryan to sit in the front row for his bipartisan, adult speech—but then took a series of potshots at Ryan purely for grade-school-level political points.
Well, look who just joined us. We have been highlighting some of his petulance since he displayed it days after his inauguration. He didn't even go 48 hours before lashing out at the Press. Back then, you all laughed. Gormogon readers did not.
He is the classic prima donna college professor. He sees everyone as his students: unwashed, impertinent, in need of a good schooling. Stuck to the errors of conventional thinking. Lambs that need leading. When you ask a question, it means you did not understand the lecture and the 200-pages of assigned reading you were given last weekend.
When he says "Look," at the start of a sentence, he wants you to stop seeing. When he announces he will be perfectly clear, he wants to confuse you. When he states "as I've always said," you know he never said it. Because he is smart, and you are dumb. After all, the media basically branded him the smartest guy in the room. We should not be surprised if, more often than not, we do not understand him.
Of course, that could change. As the editors note, Peter Wehner at Commentary mentions that All the President's Men believe that Obama is "intellectually outmatched" by Congressman Paul Ryan. The Czar would say that may be true as far as economic theory goes. And business theory. And on basic accounting. And maybe math, too. All right, to summarize it, the President's team seems to be very worried that Ryan is smarter than he is only in the things that seem to matter to most Americans right now.
This is hardly the first time. Back in March, 2010, the Czar was reminded of the Economics 101 class Rodney Dangerfield attended in Back to School. At the time, he saw Obama as the Professor; now, moreover, he sees Ryan a bit closer to Dangerfield.
There must be a sense of panic among the re-election team. Perhaps not so much the President, who probably finds it pedestrian to worry about re-election even though he will go through the motions, but certainly among those assigned to getting him another four years. They need the President to really step it up here, but deep down they fear he has no higher gear. This is it. He's out of gas.
We can expect cheap stunts and the usual chicanery associated with the Democratic Party over the next year. But 2010 was more than a wake up call: it was a bell tolling. They already know not to ask for whom.
And in less than ten years, the title Rules for Radicals will be an unfunny punchline to a question about failed political theory. Like The Communist Manifesto or The Protocols of the Elders of Zion, it will be read only by those who missed the memo from reality. Yeah, it almost worked, but history showed—once again—that no matter how intellectual, how academic, or how theoretical your leadership is, average Americans are always the smartest folks in the room.

Божію Поспѣшествующею Милостію Мы, Дима Грозный Императоръ и Самодержецъ Всероссiйскiй, цѣсарь Московскiй. The Czar was born in the steppes of Russia in 1267, and was cheated out of total control of all Russia upon the death of Boris Mikhailovich, who replaced Alexander Yaroslav Nevsky in 1263. However, in 1283, our Czar was passed over due to a clerical error and the rule of all Russia went to his second cousin Daniil (Даниил Александрович), whom Czar still resents. As a half-hearted apology, the Czar was awarded control over Muscovy, inconveniently located 5,000 miles away just outside Chicago. He now spends his time seething about this and writing about other stuff that bothers him.