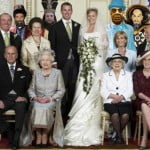 Congratulations to the happy couple.
Naturally, the Gormogons were invited to the wedding, and we were delighted to oblige when Princess Kate or whatever her name is asked us to take a group shot with the wedding party.
You will notice that Mandarin is in his most elegant black robes, and 'Puter donned his fancy "cyanese" tuxedo for the event. The Volgi and your Czar were appropriately dressed as always, and our dear GorT looks all buff and, well, buffed in his KL-5 armor.
Basically, the rundown at the reception went like this: we waited in a freaking long line just to get into the place (the reception was held at The Party Hut on Merkin Street, about a quarter mile from the Palace). The cause of the long line? No, not the receiving line: it was the super-tiny table seat assignments on a small white table, with everybody's name written in about a 5-point curlicue font and distributed in random order. The Czar finally found his between Hugh Grant and Jeremy Clarkson. Fortunately, they sat the Gormogons together.
Anyway, we finally found our names and then waited in a really long line at the bar. Some dork behind us said "Ridiculous queue, what?" and Volgi punched him because he thought the guy was referring to the Volgi's hair! Hilarious, even if the guy died. Gotta admit, the booze was free and pretty good stuff. The Czar had a vodka tonic (hey, moron bartender: when you finally turn 25 years old, you might remember that it's 1/3 vodka, 2/3 tonic, and not a split of 80-proof vodka and Diet Bubble-Up or whatever the hell fizzwater that was).
'Puter enjoyed a local British delicacy of Pimms and Vimto, which he promptly poured into a plant in the corner. The Volgi, annoyed over the absence of the Liao drug ("So much for top shelf," he muttered), settled on a 125-year-old port that he found reasonably soothing. GorT enjoyed a promeliad and thrum (which he brought himself since, of course, British liquor stores won't carry those ingredients until around 3418 AD). The Mandarin enjoyed a Blue Sapphire and lemonade, which tasted much better than it sounds. His, too, was mixed badly, which is why in 248 years, scientists will be stunned to find the dessicated corpse of a spotty 22-year-old asphyxiated bartender from the 21st Century face down in Stickney Crater on the Martian moon Phobos.
So we found our seats, and had to sit through the painfully long introduction of the bridal party couples from a DJ that looked way too much like Kyle Frasure from TopShot. It wasn't that there were a lot of couples (remember 1990s weddings, when bridal parties had like 50 people in them?), just that when you're dealing with royals, their names and titles get kind of long.
Anyway, we had a goofy speech from Prince William's best man, Doug or Don or whatever, who mumbled his way through the whole thing and something about a donkey show in Tijuana. Barely understood a word of it. Then, the maid of honor (Kylie or Keyelee or something) rambled on for about fifteen choked-up teary minutes about how precious Kate is, and how special everyone is, and we swear she mentioned the word "awesome" about thirty times before someone in back (probably her dad) yelled "Wrap it up."
Dinner was pretty fair. It was the usual: navy bean soup, a wilted lettuce salad that had way too much onion and tomato. Oven-broiled greasy chicken, Polish sausage, and shoe leather beef followed. The gravy was pretty good. Vegetables were those frozen blends of peas, carrots, and a helluva lot of lima beans (the Czar likes 'em, though; the other guys, maybe not so much). Dessert was orange sherbet, and Mandarin had like fifteen cups of it.
Anyway, we did the whole bit where the couple had their first dance ("Fireflies" by Owl City), Mr. Middleton danced with Kate (to "Butterfly Kisses"), and then the DJ asked everyone in the wedding party to hit the dance floor with "Love Shack." The bar reopened, so we sat there for a while, but when the DJ started cranking out "Paradise By The Dashboard Lights," Mandarin said it was definitely time to leave.
Our gifts to the happy couple:
The Czar brought a crockware filled with странжвик, which we hope they keep the crockware; it would be embarrassing if they thought we expected that back
'Puter bought them a copy of Risk, which he wrapped up in newspaper all by himself
Volgi gave them a very nice lantern with the Chinese word for "marriage" engraved on it; as you know, the Chinese character for "marriage" is composed of the ideograms for "eventual" and "boredom," respectively
GorT gave them a four-foot-tall Indonesian paper-and-wood puppet of a demon shaman; very impressive, although it would be best if any future children with which they might be blessed did not handle the puppet because (a) it is quite fragile and (b) covered with a substance that probably is really bad for the skin
Mandy gave them a security envelope filled with about eight dollars in singles
Best of luck, William and Kate! Sorry it won't work out for you two, or so GorT tells us.

Божію Поспѣшествующею Милостію Мы, Дима Грозный Императоръ и Самодержецъ Всероссiйскiй, цѣсарь Московскiй. The Czar was born in the steppes of Russia in 1267, and was cheated out of total control of all Russia upon the death of Boris Mikhailovich, who replaced Alexander Yaroslav Nevsky in 1263. However, in 1283, our Czar was passed over due to a clerical error and the rule of all Russia went to his second cousin Daniil (Даниил Александрович), whom Czar still resents. As a half-hearted apology, the Czar was awarded control over Muscovy, inconveniently located 5,000 miles away just outside Chicago. He now spends his time seething about this and writing about other stuff that bothers him.