Obama's Shot Across The Bow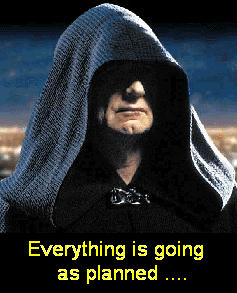 Dear The Czar,
Dr. J. listened to President Obama's petulant speech this afternoon.
It is clear that he is not going to work with the Republicans going into the 2012 election. He is expecting them to ultimately wuss out and bend to his will.
Paul Ryan's response shows the reasoned adult temperment we need in these situations. His office's fact check was equally timely.
While there is a vindictive part of Dr. J., that if he were Speaker of the House (which is why Dr. J. isn't Speaker of the House), that would cancel the vote on the CR, then vote on a combined Ryan Budget and debt ceiling increase. Dr. J would then walk the bills (HR 1 and Ryan/Debt Ceiling) over to the Senate. Hand them to Harry's page (cameras rolling) and say, "We've done our job, call us when it's time for the Conference Committee, our work is done, now do yours." Any time the House Republicans then get accused of shutting down the government, the response is, "We've done our job, they aren't doing theirs. They are shutting down the government. Our hands are tied until they pass a bill and bring it to the Conference Committee. "
Dr. J. hopes that this speech is a wake up call to Speaker Boehner, and any squishy Republicans in the House and Senate.
Speaker and friends, remember these words of the immortal Kyle Reese from The Terminator, "It can't be bargained with. It can't be reasoned with. It doesn't feel pity, or remorse, or fear. And it absolutely will not stop, ever, until you are dead." Those words also apply to the Progressive movement leading the Democratic Party at present.
Best,
Dr. J.
Royal Surgeon

Божію Поспѣшествующею Милостію Мы, Дима Грозный Императоръ и Самодержецъ Всероссiйскiй, цѣсарь Московскiй. The Czar was born in the steppes of Russia in 1267, and was cheated out of total control of all Russia upon the death of Boris Mikhailovich, who replaced Alexander Yaroslav Nevsky in 1263. However, in 1283, our Czar was passed over due to a clerical error and the rule of all Russia went to his second cousin Daniil (Даниил Александрович), whom Czar still resents. As a half-hearted apology, the Czar was awarded control over Muscovy, inconveniently located 5,000 miles away just outside Chicago. He now spends his time seething about this and writing about other stuff that bothers him.