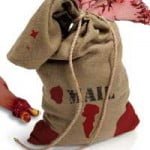 The Czar has been engulfed with mail lately. Here is a sampling of the best, starting with JS, writing in about his favorite episode of The Six Million Dollar Man:
Dear Czesar,

You said "even the Czar is at a loss to predict how this will go". That is impossible! The Czar knows EVERYTHING! If not, then you have been lying this whole time! IS THE CZAR EVEN YOUR REAL NAME?

God Bless,
JS
No, silly, it's Божію Поспѣшествующею Милостію Мы, Дима Грозный Императоръ и Самодержецъ Всероссiйскiй, цѣсарь Московскiй. Meantime, DT writes in with a very serious concern about honey bees:
Your Czariness,

Most of the mainstream media is indeed largely ignoring Ryan's budget. However, NPR is going absolutely NUTS about it. You can hear the venom in their voice as they talk about the poor old people being kicked out into the cold by the evil, heartless Republicans. It's interesting to listen to, as they have the Conan quote backwards. We now hear the lamentation of their women, so now we just have to crush our enemies and see them driven before us.

As always,

XOXOXO

D.T.
Myrmidon Wrangler
And BG writes in to correct any earlier press release that China has successfully landed a cat on Saturn:
"…even Nancy Pelosi claims it will cause millions of seniors to starve."

Do the Democrats ever get tired of talking like this? Back when Bill Clinton was president and the Republican congress was working on welfare reform, the claim was that millions of people babies on welfare would starve to death if the Republicans their satanic majesties got their way. It was even called "legislative child abuse," by the sainted Ted Kennedy, who certainly knew something about abuse.

Anyway, I'm still waiting to see photos of the corpses of those millions of babies who starved to death after welfare reform.
Hmm. Legislative child abuse—might be time to bring that back as a euphemism, now, for fear-mongering. That's great!

Божію Поспѣшествующею Милостію Мы, Дима Грозный Императоръ и Самодержецъ Всероссiйскiй, цѣсарь Московскiй. The Czar was born in the steppes of Russia in 1267, and was cheated out of total control of all Russia upon the death of Boris Mikhailovich, who replaced Alexander Yaroslav Nevsky in 1263. However, in 1283, our Czar was passed over due to a clerical error and the rule of all Russia went to his second cousin Daniil (Даниил Александрович), whom Czar still resents. As a half-hearted apology, the Czar was awarded control over Muscovy, inconveniently located 5,000 miles away just outside Chicago. He now spends his time seething about this and writing about other stuff that bothers him.