Let Us Temper Our Glee For Justice Prosser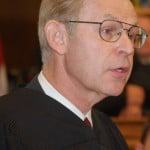 Well, by now you have heard that Justice David Prosser of Wisconsin has somehow produced over seven-thousand votes that were lost under highly questionable circumstances. Although at the time of this writing his opponent has not conceded, there seems to be little chance of her winning. No doubt we will be treated to years of claims that Prosser stole the election.
Conservative writer John Podhoretz has likened the result to Massachusetts' US Senator Scott Brown, who overpowered as an underdog and pulled out a timely and critical conservative victory. Well, maybe that is too accurate: Scott Brown was hardly the strictly conservative he purported to be.
And while Prosser has a lengthy history of sticking with conservative principles, he has expressed doubts about the anti-collective bargaining legislation. Most curiously, he seems to have stopped disagreeing with it in time for the election—perhaps counting on anti-union votes.
The Milwaukee Journal-Sentinel's editorial staff has indicated that Justice Prosser's voting record shows him to be much more of an independent than a conservative, although like most independent judges, he tends to favor conservative arguments more than bench legislation. To be direct: he has never said he supports the bill, even when asked point-blank.
Most of his association with Governor Scott Walker originates from state liberals, who are villifying Justice Prosser because his opponent, JoAnne Kloppenberg, has openly declared she will oppose the anti-union law. Because Prosser stated he will not rule it out, the liberals have not only declared him a full conservative, but a partner-in-crime to Governor Walker. This has been getting votes for Prosser, and he naturally is embracing it.
Just like Scott Brown did when opposing Senator-pro-temp Martha Coakley.
The Czar believes Justice Prosser will ultimately side with the bill because the legality of the entire thing has been reviewed from end-to-end, and no legal reason to prevent its passage and enforcement exists. The decision by Circuit Judge Maryann Sumi to bar implementation of the bill was done for purely ideological reasons, and all other opposition to the bill basically comes down along similar lines. Prosser's history shows him to be deliberate and reasoned, and therefore very likely to conclude all legal elements were addressed in good order.
But the Czar reminds you all not to celebrate too much until we see how Justice Prosser acts.

Божію Поспѣшествующею Милостію Мы, Дима Грозный Императоръ и Самодержецъ Всероссiйскiй, цѣсарь Московскiй. The Czar was born in the steppes of Russia in 1267, and was cheated out of total control of all Russia upon the death of Boris Mikhailovich, who replaced Alexander Yaroslav Nevsky in 1263. However, in 1283, our Czar was passed over due to a clerical error and the rule of all Russia went to his second cousin Daniil (Даниил Александрович), whom Czar still resents. As a half-hearted apology, the Czar was awarded control over Muscovy, inconveniently located 5,000 miles away just outside Chicago. He now spends his time seething about this and writing about other stuff that bothers him.