Karate Chopping a Bullet…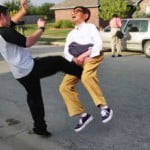 Your Mandarin happened across this very informative and interesting article by Ernest Emerson today regarding our dependency on "technology" especially when it comes to personal protection.
Your Mandarin commands that you read this article immediately.
Well, what are you waiting for? Just because your Mandarin has numerous devices in the lab that can bend, warp, and change the very essence and flavor of time does not mean that I have all day to wait for you! And for those of you who may be curious today's flavor is urinal cake.

The Mandarin, whose real name is 吏恆, joined the order in 1309, and introduced the Gormogons into England during the 18th Century.
The Mandarin enjoys spending time with his pet manticore, Βάρἰκος, or Barry (who can be found in the Bestiary). When not in the Castle…well, frankly, nobody is quite sure where he goes.
The Mandarin popularized the fine art of "gut booting," by which he delivers a powerful kick to the stomach of anyone that annoys him. Although nearly universal today, the act of gut booting or threatening someone or something with a gut boot is solely due to him.